Go Center or No Center?
  Attention Paschal students and faculty, the beloved Go Center, our student center focused on helping panthers prepare and apply for colleges, has implemented new rules for visitations, many of which have caused some anger and confusion in fellow students.
   Jennifer Pate, assistant principal, announced new rules with the Go Center staff revolving around visitation rights. With many students using the excuse to "go to the Go Center" to then skip class and teachers not checking with Go Center attendance, the Go Center had to create new rules.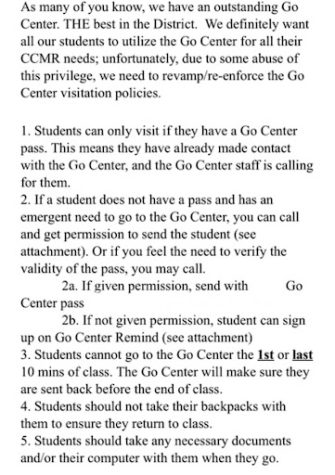 These new, controversial, rules are the following: 
In order to get these said passes, that MUST be the green passes handed out to teachers through their departments or directly from the Go Center, students can reach out to Go Center through staff's emails, remind, office number, or even their instagram. Along with this, one can ask their teacher to go to the Go Center with a proper explanation why, and with given permission, your teachers, with the green passes handed out, can dismiss you to the Go Center. If you know ahead of time that you need to go to the Go Center for help, reach out before school or a certain class and ask for a pass to be ready. You can also stop by during the passing period and get a pass. 
   Hannah Cannon, a staff member in the Go Center had this to say,"Teachers should have green passes to send students down to the go center, it should be an easy adjustment for everyone." Along with this Cannon added, "The Go Center is still an encouraging place to get college prep done, but to ensure Go Center remains a place to be productive, new rules were implemented."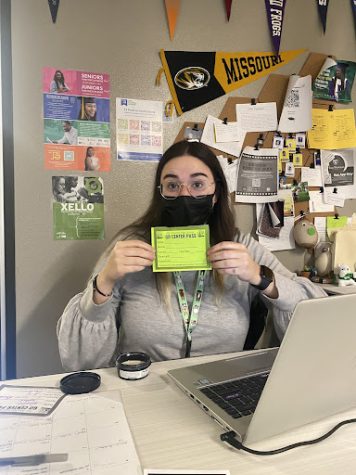 With these new rules, some backlash has arised amongst students. Arlet Perea had this to say about the new guidelines,"I think it's dumb that we have to go back to class for the last 10 minutes because what if we are on a roll in getting work done and then we have to pack up and leave, leaving our work incomplete." 
What do you think about these new rules for the Go Center, do they make sense as they can ensure more productivity or are the rules just too strict? Leave opinions and questions in the comments!