A Review of Puss in Boots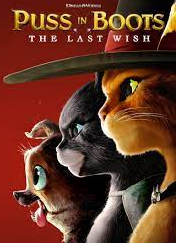 Puss in boots is diminutive but extremely talented in whatever he does, from entertaining applauding crowds by singing songs to rapier-slashing an army with pinpoint accuracy. He (of course) also has devilish good looks. And he faces every difficulty head-on in all of his great, numerous adventures. 
  I assert fearlessly. He has nine lives because he is a cat. He has a backup life, so it doesn't matter if one combat goes a little wrong. The legendary legend and Puss in Boots' popularity are his obsessions. 
  But soon he learns from his exploits that he had no room for anyone else in his life when he was dealing with that pumped-up legendary version of himself. He suffered significant losses as a result of that and in a similar vein, Kitty Softpaws the thief.Whoever Puss meets thinks that trusting someone always results in betrayal, which is a belief that Puss herself once reaffirmed. She eventually realizes, though, that it's both feasible and essential to trust other people. 
  A little puppy named Perro is introduced to Puss; he becomes significant in both Puss and Kitty's lives. Even though he has experienced his own share of abandonment torments, he sets those experiences aside since he sincerely believes in helping others and does his best to be their friend. 
  Puss initially rejects the unkempt chihuahua and doesn't want anything to do with him, but Perro's loving and healing demeanor not only soothes the anxious Puss during his most stressful moments, but also inspires the cat to think that even one life may be changed.
   Puss is the main character of the story, who regrettably learns that he is on the last of his nine lives and must use a map filled with puzzles to find a wishing star to replenish them. 
  But before he can get there, death is after him; this time, it takes the form of a large, dangerous wolf. Goldi (Florence Pugh), the three bears (Olivia Colman, Ray Winstone, and Samson Kayo), who are depicted as a cockney crime family, and Big Jack Horner (John Mulaney), who plays an incredibly greedy hoarder of all things magical, are also involved in Puss's adventure. Big Jack Horner might help the diverse cast reach the wishing star before Puss does. This plot device is clever. The famous movie is available to watch in any AMC,Movie Tavern or any local movie theater near you tickets range from around 9.00-12.00 dollars depending on the day you go tickets tend to be the cheapest during the weekdays.