What is the best Thanksgiving Meal?
With Thanksgiving being right around the corner, a big topic of discussion is what foods make this holiday something to look forward too. Many people look forward to chowing down on Thanksgiving day while watching the Macy's Thanksgiving Day Parade or football with family. The Pantherette decided to ask the students of Paschal High School what their favorite parts of a Thanksgiving feast are. 
Using a google form, we asked students to choose between some of the most popular Thanksgiving main courses, sides, and desserts to determine what the ideal feast would look like. 
 For the main course, turkey was the most favored by a considerable amount of students. However, some other students claimed it was too dry. Many rebutted with the argument that turkey with cranberry sauce is by far the best combination for the main course.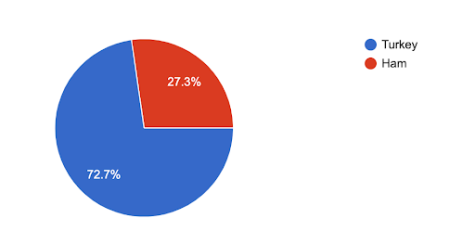 Moving onto sides, we found some of the most popular dishes and asked students to narrow it down to their top two favorites. Unsurprisingly, mashed potatoes took the cake with over 59% of votes. Coming in at a close second, biscuits and rolls hold 50% of votes. Mac n cheese takes third place in sides, while both beans and rice and corn on the cob hold no votes at all which is slightly surprising due to the known popularity of corn on the cob for Thanksgiving.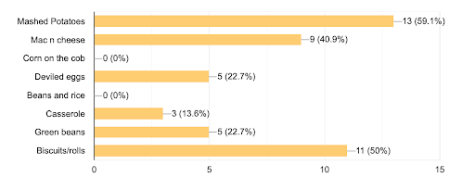 The results for favorite Thanksgiving dessert were less of a shock. Apple pie and Pumpkin pie were tied for first place with a total of 27.3% of the votes for both. At a very close second, pecan pie claimed 22.7% of the votes. Banana pudding was not able to rack up a single vote for favorite dessert.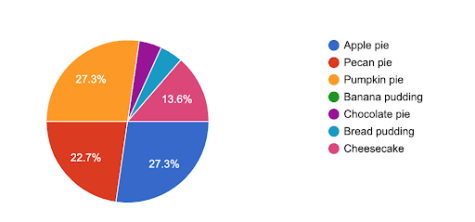 With the overall votes from Paschal students, we have determined that the ultimate Thanksgiving feast would consist of turkey, mashed potatoes, rolls, mac n cheese, apple pie, and pumpkin pie. That sounds like one delicious meal! Do you think these votes missed anything?