While states across the country are embarking on the 2023-2024 school year, new regulations are being put in place at the instruction of their administration. Florida is of particular note, having just passed what has been dubbed the "Don't Say Gay Bill," or Florida House Bill 1557. It is effective as of July 1st and has resulted in great turmoil within the state.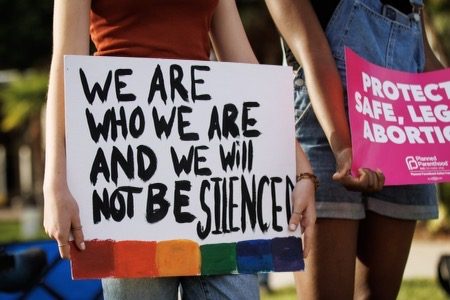 The bill declares that it "prohibits the school district from adopting procedures or student support forms that prohibit school district personnel from notifying parents about specified information or that encourage students to withhold from parents such information". This demands that the school inform parents/guardians of any information that the student wishes to remain private. The bill then goes on to say "prohibits school district personnel from discouraging or prohibiting parental notification & involvement in critical decisions affecting student's mental, emotional, or physical well-being". Most notably this applies to students who wish to go by any nicknames or pronouns that they choose themselves.
This means that any transgender child who wishes to express their own sense of identity is forbidden from doing so. And if they really wish to go through with it, those who are not already out would have to come out to their parents, potentially putting them at risk.
"It'd definitely make me feel like I'm losing my right to self-expression, The Constitution itself states that we're entitled to our pursuit of happiness, and self-expression definitely counts as that." Says Freddy Hernandez, a genderqueer individual who attends Paschal High School, when asked about how such a law would affect them if it were passed in Texas.
Another source who preferred to stay anonymous adds that "rules like the Florida Nickname Rule can lead to trans individuals feeling more alone, uncomfortable, and having a harder time feeling mentally and emotionally okay."
Additionally the bill "prohibits classroom discussion about sexual orientation or gender identity in certain grade levels". This is where the "Don't Say Gay Bill" nickname comes from.
Trans kids are not the only ones being affected by this bill. A byproduct of Governor of Florida Rob De Santis' new addition to the law affects all students. Students wishing to go by a shortened version of their given name now have to undergo the same process. If Johnny wishes to go by John then he is also required to get the permission form signed by his parents.
Andrew Davila, a teacher at Paschal High School says "As a teacher I want my students to be as comfortable as possible in my classroom and if that includes calling them by a name they prefer to go by, then yeah I'm fine with it. I also feel like the requirement for permission forms is unnecessary for something as simple as a nickname."
Laws such as House Bill 1557 being passed in other states inspire discourse on the rules we wish to implement in our schools. Community members must decide for themselves whether bills like the Florida bill are truly necessary, or if they will do more harm than good.