College Across the Country
One thing that may be frightening to many seniors at this time of year is college. The application process, visits, and choosing where to spend the next four years is very stressful, let alone adding that on to every day school work. College can be a scary thing to anticipate. It is the first time many kids are completely on their own and responsible for all of their own work. 
One of my personal experiences as leaving for college is right around the corner, was visiting the University of Georgia in Athens. I traveled with two other Paschal students on a 2 hour plane ride to Atlanta, followed by a 2 hour car ride to Athens. 
Once we arrived, we were able to experience living in one of the freshman dorms with Paschal Alumn, Audrey Patty. We were able to meet other freshman girls and see what a typical game day is like at the home of the reigning National Champions.
Some of my takeaways from this weekend trip to UGA include my love for the campus itself. The trees and hills give it such a charming environment and a safe feeling. The school buildings are the perfect distance apart to where it is not tiny but not a total trek.
The neighborhoods surrounding are also gorgeous with traditional bungalow houses. The weather in Athens is also a substantial improvement from the weather here in Texas. They have 4 distinct seasons that allow for more than just a 6 month long heat spell. In addition to the beauty of it, the school spirit and football environment is insane. The stadium was filled to the brim with loud fans that come and support the number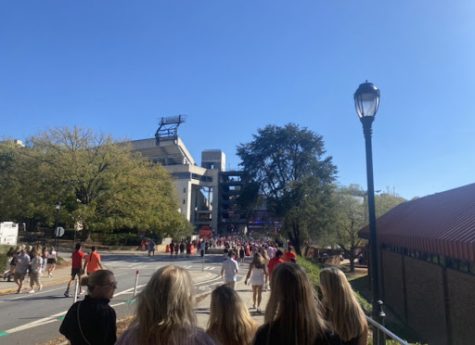 one team. If stadium going isn't for you, there are plenty of restaurants and areas to tailgate and watch the game on television. 
The only reservation I had towards it was the time and effort it takes to get from Fort Worth to Athens or vise versa. It is not too long of a flight, but the driving combined with it makes it a whole day journey.
Overall, I am strongly considering UGA as the place to spend my next four years. It is quite a unique feeling to finally envision yourself in a brand new place, and it is amazing that new seniors every year get to experience that.