Official Paschal Dress Code
Official Paschal Dress Code is out for all to see!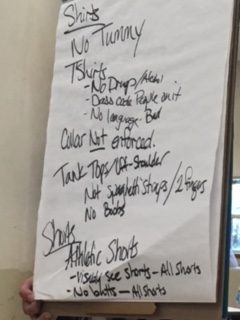 At the beginning of the 2018-2019 school year it was announced that there would be a new Paschal dress code.  There have been a lot of rumors about the dress code at Paschal, and we at the Pantherette are here to set the rumors straight.
According to Mr. Langston the Paschal dress code is, "No exposed underwear, bottoms or cleavage, no vulgar or inappropriate graphics on clothes, no pajamas or house shoes, class appropriate clothing (example: dress out in PE/Athletics, and dress for science labs)"
Parents, students, and teachers were asked to contribute suggestions for the dress code at a conference meeting before school started. The three groups were split up to have their own conversations, and after discussion the groups mixed together until a general consensus was found. 
The dress code specifies Dr. Mossiges broad rule of The Three B's; no butts, no boobs, and no belly. A printed version of the new dress code is not available yet, but meetings between administrators have been held in progress of making one.
Keep checking the Pantherette for updates on dress code, especially at the Homecoming Dance.
buy viagra online
новый займ на карту без отказа
займ 500 руб
займ на карту до 5000