The Homecoming Dance is approaching FAST. And the theme is… "Panthers Are Out of this World!"
The dance will be on Saturday, September 23, at the Ridglea Theater (a new venue!) on Camp Bowie. It will be from 7 to 11 and $20 at the door CASH ONLY! If you plan on bringing someone who's not a student at Paschal, pick up a guest form in room 209 that must be completed and returned to room 209 by Friday, September 22.
This year's Homecoming Week will be from September 18 to September 22, and the themes are very exciting.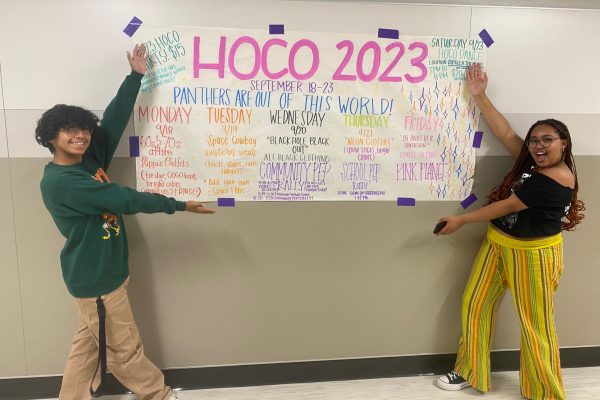 Monday will be "We Come in Peace," so wear anything from the 70s and 80s era or any hippie outfits. This theme includes tie-dye, sunglasses, bright colors, and go-go boots. Seniors! Monday is a great chance to reuse those senior polyester outfits.
Tuesday will be "Space Cowboys," so you can essentially wear all things Western with an outer space flare. This means glittery boots, flannel shirts, and dark-colored hats.
Wednesday will be "Black Hole Black Out." Just wear black! The Community Pep Rally will be on this day. It'll be held at the Gus and the PHS Football Field. From 4:30 to 6:30, food trucks and activities will be set out. From 5:30 to 6:30, there will be a freshman football game. The pep rally will be from 6:30 to 7:30. This is open to all past, present, and future Panthers.
Thursday will be "Glow in the Dark," so wear neon clothing. You can even add some glow sticks to your bright-colored outfit for the Pep Rally! The pep rally (different from Wednesday's community pep rally) will be held during school, as always, and there will be a football game at seven at Farrington Field.
And lastly, Friday will be "Pink Planet," so wear pink! There can also be a "spacey" vibe to your outfit; add some alien-like touches. Or you can dress as Barbie!