Calling all Paschal Thespians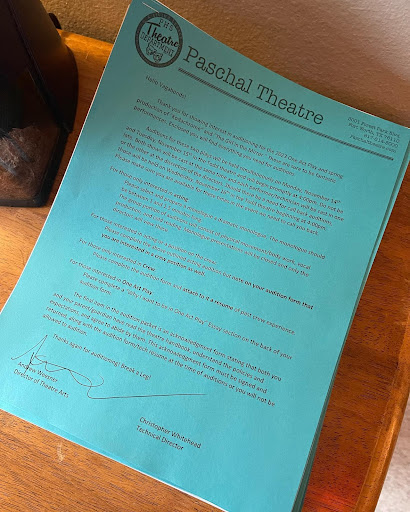 Kodachrome is this year's Once Act Play. One Act is a UIL competition where participating Texas schools each present an 18-40 minute play in front of a panel of judges. 
Kodachrome is the story of a small town told through the lens of the local photographer, who lets us peek into her neighbors' lives to catch glimpses of romance in all its stages. The Girl in the Mirror takes place inside the mind of a young girl in a coma following an attempt to end her own life. The audience watches as she chooses between life and death.
If you are interested in acting in either of these plays, you must prepare a dramatic monologue between 1 and 1.5 minutes long. Auditions take place in two parts: the group portion, focused on physical movement, vocal production, and cold reading; and monologue presentations, which are closed meaning only the directors will see.
If you are interested in acting or crew, you must complete the acting audition but indicate on your audition form that you are interested in a crew position as well.
If you are only interested in crew, you must complete the form included in the audition packet and include a resume of your past crew experience.
If you are interested in auditioning for the One Act Play, "Kodachrome", you must write a short essay describing why you want to be in One Act Play.