Mahsa Amini: What We Know
   Iranian woman Mahsa Amini was detained on September 13 by Tehran's Guidance Patrol, commonly referred to as the "morality police", for failing to comply with the government's strict dress code. Amini was targeted by the morality police for allegedly wearing a loose hijab. She died three days later in police custody on September 16. 
   State authorities announced her death a day after confirming she was being held in custody amongst other women receiving "instruction" for violating dress policy. 
  State Television reported last Friday, "She suddenly suffered a heart problem while in the company of others receiving guidance [and] was immediately taken to hospital with the cooperation of the emergency services." However, her uncle told Persian media, "Mahsa did not have a heart disease." Although it is possible that Mahsa suffered sudden cardiac death without pre-existing heart disease, it is rare. 
   After the news of her death broke, Iranians took to the streets, calling for justice and asserting that Mahsa Amini had been murdered by the State. Protests have spread to at least 60 cities throughout Iran. Images have circulated of female protesters removing and burning their head scarfs. Some women are cutting their hair in a public display of dissent. American-Iranian Journalist Masih Alinejad told AP News, "They are protesting against one of the most visible symbols of oppression. They are protesting against the whole regime."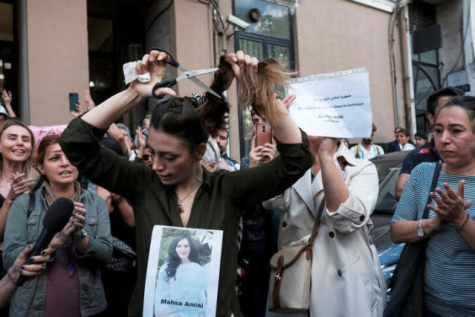 Large displays of civil dissent and ideological division can't be attributed to the death of one individual. Iran's political climate is bolstered by the nation's state of economic stratification and regime changes.  As explained by Paschal mother and Iranian-American, Dr. Lili Meisamy, "What sustains the deep roots of Iran's forty plus year regime is the educational disparity of its population, the lack of an economic middle class, and the division of the upper class from the impoverished by those who benefit financially through perpetuating distorted interpretation of religion." 
   According to Radio Free Europe/ Radio Liberty, Iran's President Ebrahim Raisi has condemned the violent protesters saying Iran must "deal decisively with those who oppose the country's security and tranquility". Within 10 days, hundreds of Iranian citizens have been arrested and the Iran Human Rights (IHR) group has tallied 54 Protesters killed and hundreds wounded.  
   Among the 54 killed protesters is Hadis Najafi, a 23 year old who approached security forces while showing her hair. Najafi's last moments have circulated on TikTok under the tags #HadisNajafi,#mahsaamini,and #helpiran. Najafi was active on TikTok (@hadisnajafi78) and Instagram (@hadisnajafi78).
   Hadis' sister told American-Iranian Journalist Masih Alinejad, "Her heart was broken for Mahsa Amini. She said she would not stay silent. They killed her with six bullets."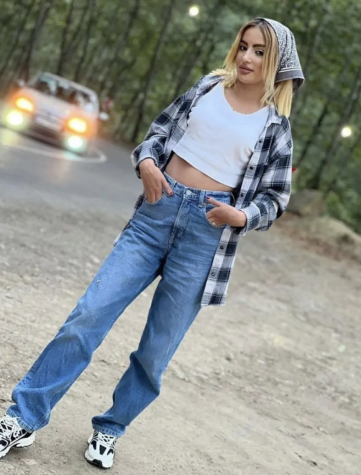 Internet access has been continually blocked in an effort to limit the spread of information about the protests to reach the outside world. Watchdog organization, NetBlocks, disclosed Iranians are now subject to the most severe internet restrictions since demonstrations over fuel prices took place in November 2019 resulting in the death of 1500 people.
   The Iranian government has gone as far as detaining dissenting journalists in an effort to slow the flow of information. Sherif Mansour with the Committee to Protect Journalists, reported that 17 journalists have been arrested since the protests erupted.
   The government's actions have garnered international attention. United Nations experts have strongly advised for an impartial investigation into Iran's perpetual violence against women.
   "Mahsa Amini's tragic death and allegations of torture and ill-treatment must be promptly, impartially and effectively investigated by an independent competent authority, that ensures, in particular, that her family has access to justice and truth," said Acting UN High Commissioner for Human Rights Nada Al-Nashif. 
   In the meantime, it is crucial for other countries to aid the effort to educate the Iranian public. According to Dr. Meisamy, "If the treatment of women in Iran is to improve, it's necessary for foreign governments to increase visa approval for those seeking to further education outside of Iran and to find ways of ameliorating sanctions against the country in a way that will allow its middle class to grow."
   Iran's large uneducated population is susceptible to the Iranian government's political maneuvers. Dr. Meisamy explains that Iran's impoverished and uneducated population play an active role in upholding the radical Islamic regime. "What is necessary is to unite the divided country by approximating its social classes and removing the large impoverished group whose fund of knowledge deficit makes them an easy target of manipulative propaganda by a government whose remained in power through the support of that large population."
Your donation will support the student journalists of Paschal High School - TX. Your contribution will allow us to purchase equipment and cover our annual website hosting costs.
About the Contributor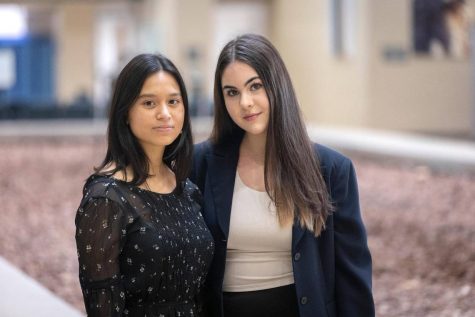 Maya Perez, Reporter
This is my first year on the newspaper staff! I am a junior at Paschal highschool.  As the president of the Feminist club and VP of JSA, I hope to add...