Microsoft Buys Activision-Blizzard for $68.7 Billion
January 18, 2022 marks probably one of the biggest acquisitions in gaming history: tech giant and owners of Xbox, Microsoft, has purchased Activision-Blizzard, one of the biggest publishers in all of gaming, for nearly $70 billion. The fact that this came completely out of nowhere is what's truly fascinating honestly. But just what does this mean for Microsoft, Xbox, and all the subsequent studios and franchises now at their disposal?
If you've been keeping track of the gaming industry, you are aware that Xbox CEO, Phil Spencer, and Microsoft have made a few rather large acquisitions over the last couple of years as a means to bring more exclusive content to Xbox platforms and Xbox Game Pass. A similar acquisition was made over a year ago in November of 2020, where Microsoft bought ZeniMax Media, which is the parent company of game publisher Bethesda Softworks, for $7.5 billion, bringing them into the Xbox family.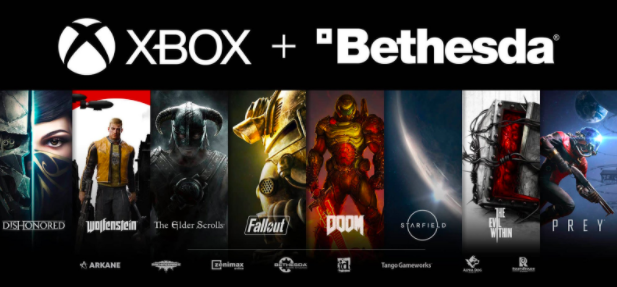 With Microsoft now owning some of the most recognizable game franchises under the sun, it's needless to say that their ever-popular Xbox Game Pass will become filled to the brim with even more titles than ever before. But just what franchises do they own now?
In addition to their recent buyout of Activision-Blizzard, Xbox now owns (in alphabetical order) Age of Empires, Banjo-Kazooie, Battletoads, Call of Duty, Candy Crush, Conker, Crackdown, Crash Bandicoot, Diablo, Dishonored, DOOM, The Elder Scrolls, The Evil Within, Fable, Fallout, Forza, Gears of War, Halo, Hearthstone, Killer Instinct, Microsoft Flight Simulator, Minecraft, Ori, The Outer Worlds, Overwatch, Perfect Dark, Prey, Psychonauts, Quake, Sea of Thieves, Spyro the Dragon, Starcraft, Starfield, State of Decay, Tony Hawk's Pro Skater, Wasteland, Warcraft, and Wolfenstein. The lineup of games in Xbox's corner is enough to rival that of Nintendo, let alone PlayStation. And that's not even the number of studios now owned by Microsoft as well.
Since Microsoft now owns all of Activision-Blizzard, that also includes the studios they owned, which added to Microsoft's already owned studios are 343 Industries, World's Edge, The Coalition, Compulsion Games, Double Fine, The Initiative, Inxile Entertainment, Mojang Studios, Ninja Theory, Obsidian Entertainment, Playground Games, Rare, Turn 10, Undead Labs, Bethesda Game Studios, ZeniMax Online, id Software, Arkane Studios, Machinegames, Tango Gameworks, Alpha Dog, Roundhouse Studios, and now with their acquisition, Treyarch, Raven Software, High Moon Studios, Beenox, Sledgehammer Games, Infinity Ward, Demonware, and Toys for Bob.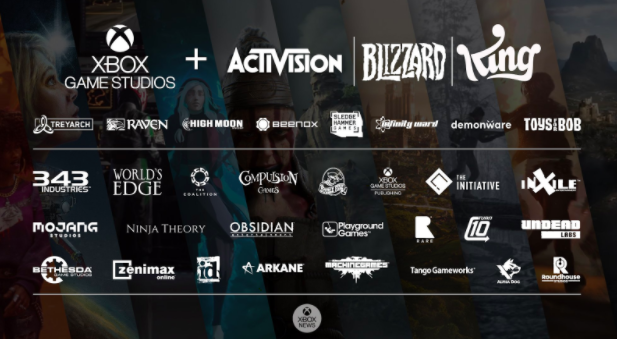 With how massive an acquisition Microsoft made, now making them the third biggest game company in the world, officials of the White House had gotten involved with whether or not it could be considered monopolistic i.e. whether or not Xbox is becoming the Disney of the games industry. However, since the gaming industry has, for the most part, been a three-man game between Microsoft, Sony, and Nintendo, an official for the White House basically stated that there are no concerns in terms of competition in the industry (not that there's much, to begin with).
So what does this mean for Activision-Blizzard and Xbox moving forward? For most, hopefully, some major culture changes with Activision and Blizzard as a company. Activision CEO and a notorious slimeball, Bobby Kotick, has been in a lot of hot water over the last several months in an investigation done by the state of California regarding workplace sexual harassment and inequality at the company, linking to disgusting acts such as groping, peeping, "cube crawling", and even the suicide of a female employee at a business trip, and Kotick not only turning a blind eye to any of it but also participating in said acts as well.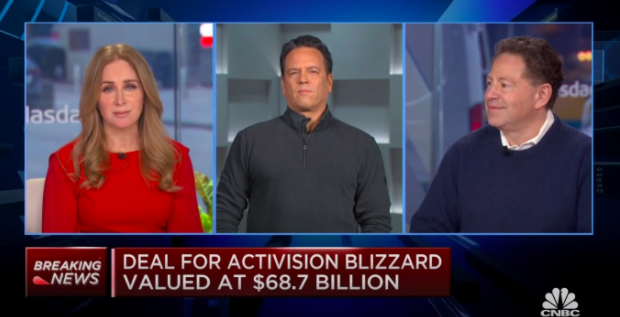 With Microsoft now owning Activision-Blizzard, many rumors have been circulating about Kotick being removed from his position, with many pointing to a comment Phil Spencer had made during the height of the controversy some months back, saying he was "disturbed and deeply troubled at the horrific events and actions" at the company. While it is likely that Kotick will be removed as CEO of Activision, there has yet to be any official confirmation from Spencer, Xbox, or Microsoft, and many articles have either said he will remain CEO or will be forced out, but again, yet to be confirmed.
As for what happens with all the game franchises and studios now at Xbox's disposal, that remains to be seen. Speculation is all we can truly go off right now. Hopefully, franchises like Call of Duty, Spyro the Dragon, Diablo, and Overwatch will be made anew and we can finally move past all the atrocities that had taken place at Activision-Blizzard. And hey, maybe now we'll get an Xbox Smash Bros. Clone. Again, only time will tell.
Your donation will support the student journalists of Paschal High School - TX. Your contribution will allow us to purchase equipment and cover our annual website hosting costs.