Top 10 Best Video Games for Christmas 2021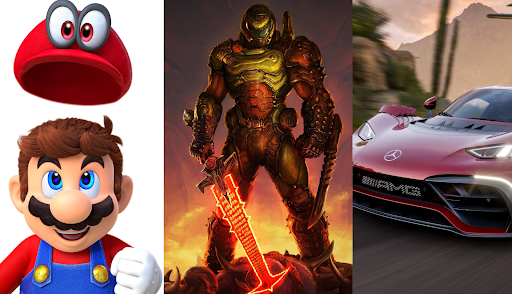 Christmas is right around the corner, and you know what that means: presents. And video games do make for pretty great gifts for the holidays. So I thought I'd give my top 10 games to get for Christmas. Disclaimer 1: All of these are opinion based, you are welcome to disagree with what I have to say. Disclaimer 2: All these games are available for specific hardware; please make sure the game you are getting as a gift matches the system someone has. With that being said, let's jump right in:
10: Forza Horizon 5 (Xbox Series X, Xbox Series S, Xbox One, PC)
You never really could go wrong with a racing series like Forza. Being one of the Xbox's most iconic exclusives for a while, the series now returns with what is arguably one of the best racing games of all time. With the franchise now making its way to PC, a greater audience will now be able to enjoy such an iconic series. There really isn't much more to say about Forza Horizon 5. Just a nice classic racing game.
9: Metroid Dread (Nintendo Switch)
Though some may scoff at it just because it's a 2-D game, Metroid Dread is by far one of the best games of 2021. Not only does it mark the full return of everyone's favorite galactic bounty hunter, Samus Aran, it breathes life back into what some assumed was now a dead franchise from Nintendo. The game, atmosphere, and visual storytelling make for a great game to give for the holidays.
8: Halo Infinite (Xbox Series X, Xbox Series S, Xbox One, PC)
Finally finishing the fight. 343 industries, for all their faults in the past, they truly have made something special with Halo Infinite. Never really thought that the Halo franchise would translate into an open world game, but the campaign worked well in the end, bringing Master Chief back to his former glory. The game also has seemingly great multiplayer. While the game isn't the first three Halo games, it still is a fun and classic feeling Halo experience I can recommend.
7: Ghost of Tsushima (PS5, PS4)
By far an incredible game, Ghost of Tsushima follows the tale of Jin Sakai, the last samurai left on Tsushima Island and an invasion by the Mongols. It has a vast open world with amazing art direction and a story of forging your own path, betrayal, and honor. To the people at Sucker Punch Productions, I raise my glass to you for making such a memorable game.
6: Spider-Man: Miles Morales (PS5, PS4)
A brilliant follow up to 2018's Spider-Man on the PS4, this game once again returns us to the city of New York following the tale of Spidey's new apprentice, Miles Morales. By far one of the best open world games of 2020. If you have a family member or friend with a PS4 or PS5, I can't recommend the tale of our young webslinger enough.
5: Psychonauts 2 (Xbox Series X, Xbox Series S, PS4, PC)
The long awaited sequel to the cult classic game from the era of the PS2 and original Xbox, Psychonauts 2 brings us back to the story of the psychic, Razputin "Raz" Aquato, now an intern for the Psychonauts team. The original artstyle is retained from the original game, and has brought back all the original voice actors to reprise their roles, as well some new faces in the series. An overall fun game that will both be a brand new experience for some and a throwback for others.
4: DOOM Eternal (Xbox Series X, Xbox Series S, Xbox One, PS5, PS4, Nintendo Switch, PC, Stadia)
Admittedly a bit of personal bias for me, as DOOM Eternal is admittedly my favorite game of all time. But I personally believe its spot here is warranted, as it has been described by many as one of the best first-person shooters of all time. The dynamic gameplay and visual storytelling is nearly unrivaled, and has by far one of the best original soundtracks in all of gaming. If you have relations to a hardcore gamer, then I can't recommend this game enough.
3: Super Mario Odyssey (Nintendo Switch)
Like Forza, you can never really go wrong with a Mario game, especially a 3-D Mario game. Super Mario Odyssey brings us on a fun and rewarding adventure, once again with the lovable Wahoo Man himself, Mario, and his new friend, Cappy. Though the game is a few years old, this honestly feels like it was only released yesterday. By far one of the best Switch exclusives you can get for the Holidays, with fun gameplay and platforming, music, and all around just being an incredible game.
2: Mass Effect: Legendary Edition (Xbox One, PS4, PC)
The original Mass Effect trilogy is by far one of the best trilogies in all of gaming, and the recent compilation, Legendary Edition, has brought the franchise into a higher definition, and in an incredible way at that. Whether you are fan or new to the franchise, take the role of Commander Shepard, and embark on some of gaming's best stories. The best part is that there are three incredible games included, so what do you have to lose here?
1: Super Smash Bros.: Ultimate (Nintendo Switch)
Everyone is here. The ultimate celebration in all of gaming, Smash Bros. has always been the franchise to bring everyone together, with some of the most iconic and beloved characters of all time representing their respective franchises. By far a game that I believe anyone can pick up and enjoy, no matter who you are. I highly recommend that if you get this as a Christmas gift, you also purchase the DLC fighters for the game as well, to get the complete experience for this wonderful video game.
Your donation will support the student journalists of Paschal High School - TX. Your contribution will allow us to purchase equipment and cover our annual website hosting costs.