Fine Arts Make a Comeback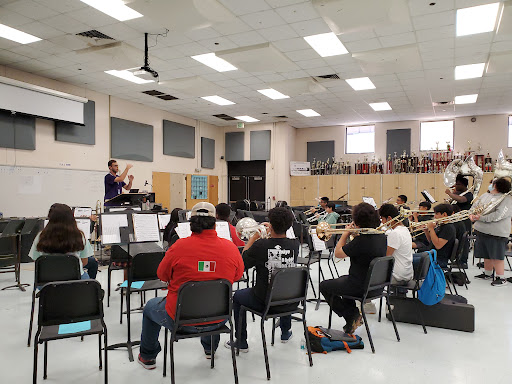 This past year was difficult for everyone. It brought forth challenges that we never expected and tested us in ways we never imagined and in the midst  of trying to survive one department in particular accepted a challenge, giving up everything previously known and starting from square one.
" Teaching online is not the way fine arts should be, " said choir director Nathan Benavides when asked if  he is excited to be back in person.
 Overwhelmed with trying to pass their core classes, for many students last year the fine arts were left on the back burner, in some cases even forgotten and as result many fine arts teachers were left with less than desirable classes

When asked about his experience teaching in COVID last year Paschal's Tech Theater teacher Christopher Whitehead admits,  "It was definitely the most difficult year  I've had so far".
The main challenge last year for all teachers was engaging students and keeping them attentive for the new ninety minute class periods. In core subjects such as math or history a teacher could post a video lesson to Google Classroom and hope the students comprehend and reach out with any questions, but for the fine arts the situation was a little different.
" The social aspect of the band  I think is one of the most important pieces of what we do " states band director Lance Walker and it's challenging to have that aspect when everyone in the room is no less than six feet apart."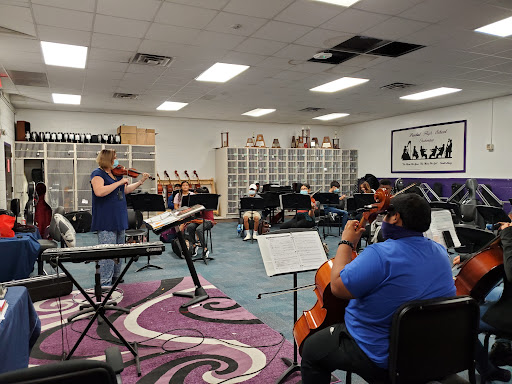 For all the fine arts programs at Paschal what stands out the most is the unity within the program and the bond the teachers have with the students involved.
Orchestra director Christine Glass even goes as far to state that "A lot of people join orchestra to be a part of something bigger than themselves", for a majority of the people involved it's more than just playing music it's about the community and the culture of it all."
And  between adjusting to virtual learning and the individual experiences in the students personal lives a large amount of that comradery was lost.
" I was trying to make the most of an impossibly challenging situation" reflects  Benavides,
And yet despite these setbacks and the ever changing situation of the world we live in, he along with the rest of the fine art directors never gave up and instead were constantly adjusting to fit the challenge apparent.
Things to look forward too within the fine arts this year:
 Marching Band UIL

Jazz bands Essentially Ellington competition

this year's musica

l Beauty and the Beast (auditions open to the entire campus throughout the paschal pyramid!)

Theatre production of Antigone

Orchestra coffee house

Choir Christmas concert