Invierno, El Hogar de las Comidas Hispanas
Hang on for a minute...we're trying to find some more stories you might like.
Estamos empezando la época del año en la que los hispanos se despiertan al olor de Chocolate Abuelita, y por las noches empiezan a sacar las mantas gruesas con los tigres al frente. Sin embargo, ¡lo que más esperamos durante este tiempo es la comida! Podemos ver por toda la internet en memes y en las fotos que publica la gente. Únese con nosotros mientras introducimos algunos de los alimentos hispanos más comunes en el invierno. 
Unas bebidas famosas en las casas de los hispanos son el atole y el champurrado. La palabra "atole" viene de la palabra aztec-nahuatl "atolli". Para aquellos que conocen las historias de Hernán Cortés, deben de saber que el atole fue inventado antes de que Cortés fuera a visitar a Montezuma en Tenochtitlan. El atole es una mezcla de masa harina, agua, leche, azúcar y canela pulverizada. Para hacer el champurrado, nada más se añade chocolate al atole. 
El atole y el champurrado generalmente se toman en la mañana como bebidas de desayuno. Son muy cremosas y dulces, perfectas para el tiempo de las festividades. Otros postres dulces que son comunes durante este tiempo son las torrejas y los buñuelos u hojuelas.
Las torrejas se dice que son tradicionalmente un postre español. Apicius, un gastrónomo romano, fue unas de las primeras personas en los siglos cuarto y quinto que mencionó el pan bañado en leche. Las torrejas se hacen cortando un pan junquillo en trozos de aproximadamente una pulgada de grosor. Después se colocan brevemente en una mezcla de huevo y leche, para freírlos en un sartén. La grasa excesiva después se borra y el pan se remoja en un almíbar hecho de azúcar moreno, agua y canela.
Algo similar a las torrejas son los buñuelos. La población morisca española comía buñuelos y descubrieron que evolucionó de las culturas árabe y sefardí-judía. Este postre también es un gran símbolo de suerte. Los buñuelos son hechos de masa frita lloviznada con azúcar de canela.
Muchos de estos alimentos, por supuesto, pueden ser hechos en una variedad de maneras en diferentes hogares hispanos, pero eso no cambia la emoción de muchos hispanos durante este tiempo.
About the Writer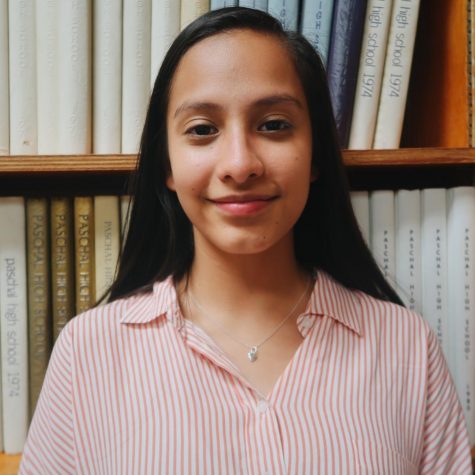 Brisayd Muniz, Enterprise Reporter
Brisayd Muniz, or better known as Brisa, is a junior at Paschal High School. She is a hispanic church girl that goes to church and reads her bible!!! Also,...