How Long is Forever?
On Monday the 30th of September, the company Forever 21 announced it had begun filing voluntary chapter 11 bankruptcy proceedings. Chapter 11 bankruptcy is nicknamed the "reorganization bankruptcy," allowing companies to buy time and sort out issues, so Forever 21 isn't out of business yet. In order to become profitable once again, the company will withdraw most storefronts in Asia and Europe to focus on locations in Central and North America. However, the United States market will still face downsizing with the closing of up to 178 stores and a shift to focus on online sales. According to news reports the only Forever 21 scheduled to close its doors in the Fort Worth area is the location at the Tanger Outlet Mall.
The weekend prior to Forever 21's announcement, customers had reason to suspect something was off. The site, known for its affordable prices and seasonal sales, held an unprecedented  surprise sale for up to 50% off sale items, a wheel of discounts on different clothing categories each day, free shipping, and certain amounts off purchases of a certain value.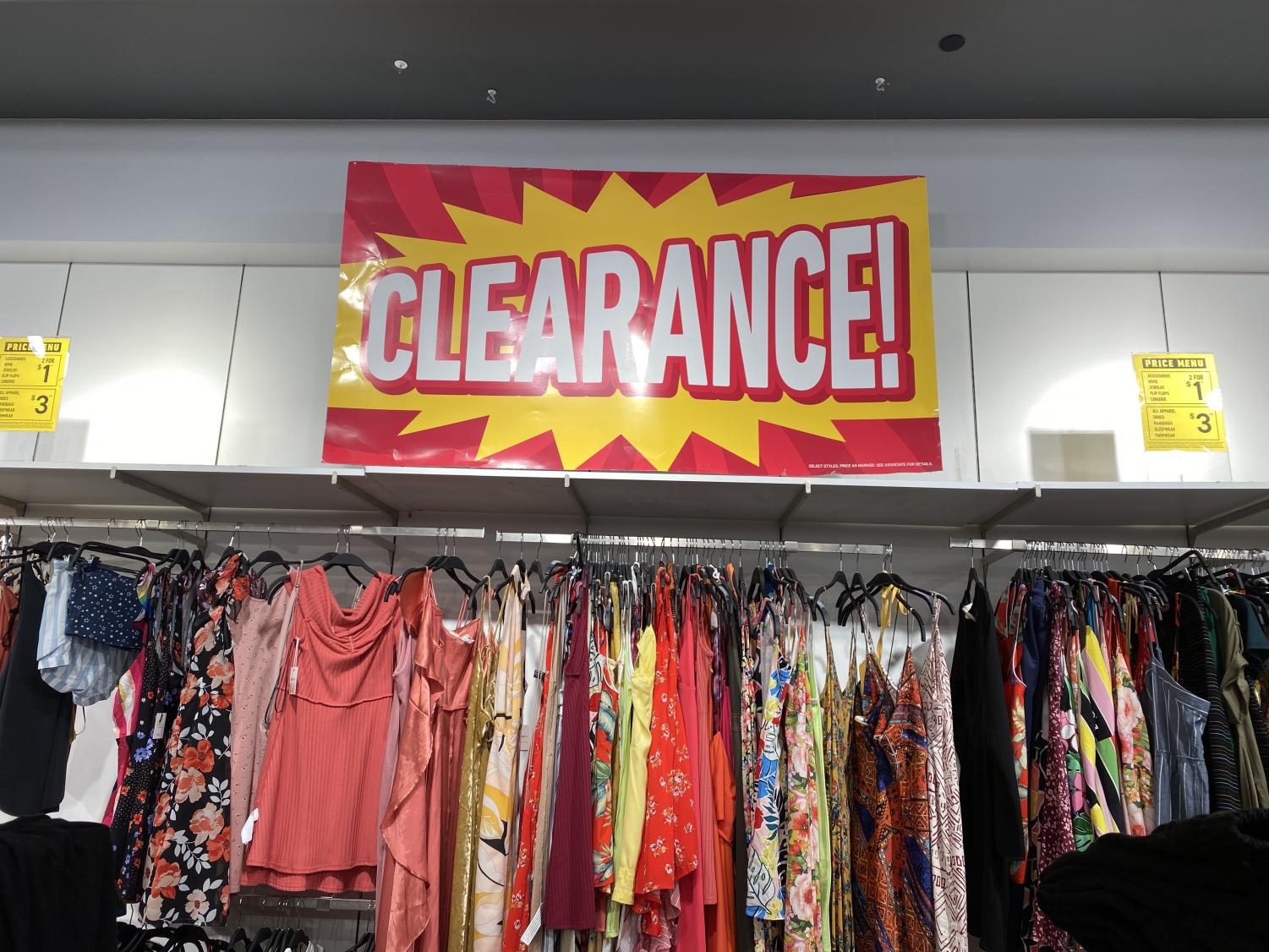 Forever 21 has no plans of disappearing, contrary to the image projected to customers by the large sale. The company acquired $325 million in financing from JPMorgan, Chase Bank, and TGP Sixth Street Partners.  Forever 21 plans to use the funding to continue running the business until they can regain profitability. 
Forever 21's money management isn't the only problem the company has faced. In 2017, news sources began to question the correlation between low clothes prices and production in the USA, suspecting sweatshops paying under the minimum wage. The LA Times investigated on the plausibility of the situation in the article, "Behind a $13 shirt, a $6-an-hour worker", (https://www.latimes.com/projects/la-fi-forever-21-factory-workers/) unearthing how Forever 21 avoided media persecution by being involved in retailing alone, and keeping out of the manufacturing,  allowing them to avoid responsibility for the wages of workers producing their product. So, while Forever 21 does pay minimum wage to all its employees, it directly endorses manufacturers who do not do the same, allowing the company to charge lower prices for the clothes sold in stores. For more information, the specific policies the company uses for buying merchandise from vendors is located under social responsibility on the Forever 21 website (https://www.forever21.com/us/shop/info/socialresponsibility).
Aside from pay inconsistencies, Forever 21 joins other fast fashion companies in a slew of questionable practices. The brand is one third of fast fashion producers (the other two,  H&M and Zara, have similar business models to Forever 21) prospering in the market. The term "fast fashion" describes the way inexpensive clothing is rapidly produced for mass-marketing by retailers to mimic the latest trends. 
The idea of fast fashion boomed in the late 1990s to early 2000s, when companies like Forever 21 first opened their doors. During this time period, the concept was a new idea. Instead of going to department stores, one could simply drive to the nearest mall, go to Forever 21 and pay $20 for the newest style dress instead of $80, albeit one of lower quality. In 2019, it is less of a norm to go to the nearest mall to pick out the latest fashion. It is much easier to Google what you want online and then just choose from those options. Forever 21 has a large online presence but its costs of keeping stores open in failing malls deducts from the overall profit that the company makes. The continuous cycle of following the latest trend only to have it go out of style a month later also impacts the amount of waste the company produces. 
H&M, a Swedish fast fashion conglomerate, prides itself on its efforts towards sustainability, but in actuality it may contribute as much harm as it does good. Since 2013 the company has burned a reported 60 tonnes (approximately 66.1387 US tons) of new produced clothing, and in 2018 the company had a reported 4.3 billion dollars of unsold merchandise. In order to remedy the environmental impact of the unsold clothes, H&M, alongside Forever21, incentivise the recycling of their products by luring customers to trade in clothes of seasons past for store discounts. Sadly this just perpetuates the cycle of buying clothing to satisfy fads, leaving collections to sit in the store never to be worn or purchased.

But H&M is doing much more than Forever21, as they have recognized that they are part of the problem and are making visible efforts to minimize environmental impact. In 2016 H&M set goals to establish a sustainable future for the company by 2040. In all of the H&M operations in 2017, 96% of electricity used came from renewable energy sources, and the company aims to reach 100%. H&M also hopes to increase the percentage of recycled and sustainable material used in their clothing production from the current 35% to 100%, by 2030. These efforts combined with becoming more transparent in communication with consumers, puts H&M on the track to make the change from the fast fashion industry into the sustainable clothing industry.  
 Forever21's environmental endeavors pale to those of H&M, Forever21's environmental initiatives appear to only be movitaved by the desire to be politically correct. Becoming part of San Francisco's goal to reach zero waste by 2020 and contributing to LA's goal of using renewables to produce 33% of electricity in the city is good, yes. But these areas are overly conscious about matters pertaining to the environment. By participating in these goals the company creates the facade that they are minimizing their own environmental footprint, when they are just aiding others instead. They show no intention to initiate programs to reduce the impacts of their own waste. 
The lack of social responsibility by Forever21 shifts the spotlight to sustainable fashion options. The movement of sustainable clothing abides by regulations given by the FTC (federal trade commission) called the Green Guides to ensure claims are substantiated, avoiding false advertisement of brands that are not environmentally friendly. Ensuring the reliability of the environmentally friendly products reduces waste and is ethical concerning workers and animals, because of this it is a more viable option in comparison to fast fashion even though it may cost a bit more. 
A sweater or dress that isn't cheaply produced or bought on a whim can become a piece of clothing worn throughout the changing of trends. Sustainable brands aim to benefit both consumers wallets' and the environment in the long run. Switching to sustainable clothing takes time, but by slowly shifting consumption away from fast fashion, positive progress is made. An easy starting place is visiting local thrift stores and second hand clothing stores. In Fort Worth there is Haltom thrift, McCart thrift, several Goodwills, and Plato's Closet, just to name a few choices. Along with these local destinations, online brands like Everlane, Reformation, Outdoor Voices, Alternative Apparel, thredUP, and PACT (which can be bought at target), offer a wide range of sustainable clothing choices for men and women.
Forever21's report card has too many failing grades, only changing their policy after being exposed by the media, proving that the company values the lucrative turn-a-round of fast fashion more than long term global repercussions their actions cause. The action of declaring bankruptcy is a little too late. Forever21 should've realized their concept of operation had become irresponsible and as a result taken transformative action or shut their doors. Instead their lack of responsible action leaves the other fast fashion powerhouses to take over their role of producing cute clothes with supercilious sayings. In a time of global tension related to climate concern and the reformation of environmental policy, take the time to think about what impact your clothing will make on yourself and fellow global citizens. While Forever21 may be convenient for their prices, compare them to their competitor of H&M. The price on the Forever21 tag doesn't contain all the facts, so ask yourself what's the real cost of the flimsy piece of clothing you're about to buy? hairy woman займ в интернетекредит и займонлайн займ на карту срочно круглосуточно взят займзайм для погашения займазайм на 2 месяца без процентов