Get that Money! : Your Guide to Financial Aid
Hang on for a minute...we're trying to find some more stories you might like.
College is big time stressful, and all of the things that you have to do to prepare for life after high school can make you want to scream. As if the hard work you put in your junior year to make your GPA as high as possible, and the laborious application process are not enough, the stress does not end after you get an acceptance letter. Now, you have to plan out how to pay for your education!
But don't worry, there are many ways to find resources to help carry the financial burden that a college education brings.
The first, most widespread source of financial aid is FAFSA, which is a Free Application for Federal Student Aid program. The application takes around 30 minutes, and you will need all of your parents' income and tax information, which can seem daunting, but if your family cannot afford to pay for your college, FAFSA will provide you with substantial scholarships. The application is completely need-based, so students that have proof that their family's income is not able to support college payments, then they will receive aid, however the guidelines can be strict in what qualifies as not able to support college payments. Regardless, I highly recommend any student pursuing education after high school to take the half hour of your day to apply, because you never know what you might get from it. The deadline to apply this year is June 30, 2019.
            If your family may not meet the requirements for FAFSA, or if it does not fill your need for financial aid, there are still many ways to qualify for financial aid elsewhere. For most schools, when you submit your application, they will automatically assess your credentials and assign a merit-based financial award. This means that they will take into consideration your GPA and SAT/ACT scores, as well as other academic achievements, and determine what rank you qualify for under their financial aid system. If/when you receive acceptance to the school, the letter or website should tell you how much money they are willing to give you if you choose to accept your admission. Different schools are willing to spend different amounts of money on financial aid, and generally speaking (but not true for all schools), the higher the tuition costs are, the more financial aid the school will offer.
Aside from FAFSA and financial aid directly from your school of choice, you can still apply for scholarships from outside sources. This is where you can get creative, because you might find that sources you never would have guessed actually offer scholarships. Some of the especially out-there ones include the "Zombie Apocalypse Scholarship", the "Christmas Tree Farmers of New York", "The Central Arizona Tall Society", and the "Sheep Heritage Foundation Memorial Scholarship". These are obviously far-fetched options, but they show the extent of the range of things that can get you money for college. If you have a hobby, for example you love taking pictures, google "photography scholarships 2019" and there are bound to be a hundred options to apply for. If you don't play a sport or have an interest in anything specific, there are still options for you to answer an essay prompt or something related to that, so keep your options open and do some research.
Overall, some tips to be prepared for scholarship applications would be to have your resume completed and exactly how you want it, because most financial aid opportunities will ask for a resume. Keep your options open, and understand that there are so many resources to get money for school outside of student loans, so at the end of the day it is better to have applied for 100 scholarships and only received a couple, than to never apply at all and pay out of pocket.
About the Contributor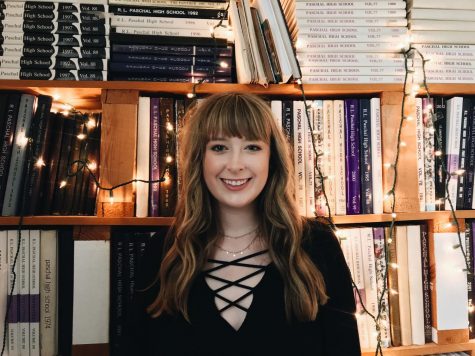 Hannah Harvey, Editor-In-Chief
Hannah Harvey is the editor-in-chief of the Pantherette. She has been on the staff for three years. Hannah is apart of the leadership team for Fellowship,...