The Future Entrepreneur of America
One of the richest, most successful men in the modern world, Mark Zuckerberg has changed the way we communicate and how the internet can function, and as many may know, this man did this at the infamous age of just 19! This trend of having young entrepreneurs and creators has taken younger generations by storm, inspiring thousands of teenagers to start their enterprise, including teenagers at Paschal. To get an outlook on what it takes to run a business at such a young age, I interviewed 2  students who have started their adventure into the world of running a small business: Alexis Russel Aragon who has a hair styling business and Jesenia Garcia who makes chocolate dipped strawberries and other baked goods.
     When interviewing these talented students, I came up with a few questions to get the full scoop on what it is like to be a young business owner in high school:
1.What first inspired you to start this journey of owning your own business?
2.What was/is the hardest part of running your own business at such a young age?
3.How do you manage your time tables while being in school and organizing/pursuing your business?
4.Favorite memory so far of running an enterprise? Proudest work?
5.What do you charge for your service/goods?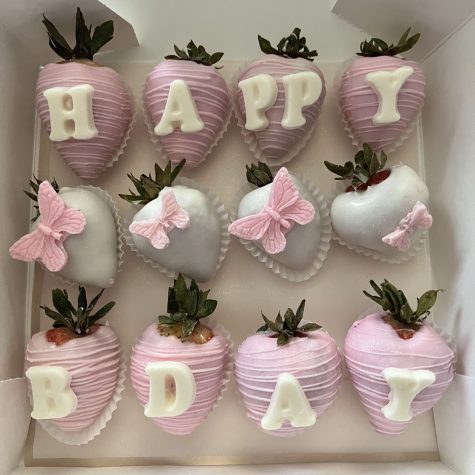 I first interviewed Jesenia about her baking/strawberry business to get all the fruity details in her experience, here's what she had to say:
   "I've always enjoyed baking and decided to challenge myself and try something new. It was during this time when everyone was starting a small business so I decided to try it out and see if I enjoyed it and it has been such an awesome journey."
  Jesenia continues, "The hardest part has to be figuring out my pricing as well as making time for all of the orders and my schoolwork." 
  I take orders in advance so I can make a plan on how I want to conquer the order as well as buy all the necessities on the weekend.
My favorite memory was getting my very first order, this order was very challenging because not only was it the first order I've gotten but it was for a set of twins so double the work. One side was spiderman theme which required a hand drawn spider web on a breakable heart which completely blew me away because I did not think i was capable of accomplishing that, but I did, and it even came out better than the referencephoto!
My proudest work has to be my first ever Halloween theme box which had a hand drawn Ghostface and Jason. 
   $30 for 12 berries & $50 for breakable heart with 6 berries (Handmade mallet included) all orders customized by customers 
      Jesenia also had this to add for possible customers: "I also offer cakesicles (cake shaped as popsicles), cake pops, chocolate covered strawberry bouquets, geometric heart mini cakes, strawberry towers, chocolate covered pretzels and marshmallows. I am planning on making a business Instagram soon and I am currently working on my easter menu!" If you are interested in purchasing some of her goods or asking any questions her Instagram is @Jeseniaaaa__ 
   I also interviewed Alexis Aragon Russel who has built her empire in styling hair and here is what she had to say:
1.It started with my mom wanting to have her hair braided cause she would always braid mine, so she told me I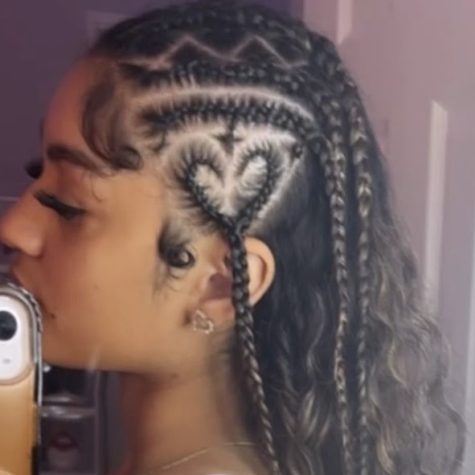 needed to learn so I could braid hers. I learned by watching YouTube videos on how to braid when I was 11. I didn't really know I could make it into a business at the time but when I got a little older & better, my mom encouraged me to start making money doing it.
The hardest part is having to keep up with all the new trends & always having to learn new hairstyles to do because there's always something new out & trending. 
3.It is hard to manage my time between school, work & my business, but I have an app called Squarespace Scheduling to help see what my schedule looks like & I schedule them by going by that. 
4.My proudest work recently has to be the style I did on my friend. She let me practice a heart braid & a couple other types of braids. It came out really good on my first try & didn't take as long as I thought. 
5.The price varies, it really depends on what style you want but any style without extra hair added should be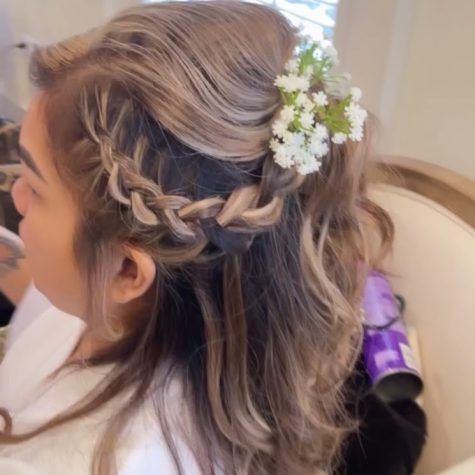 under $75.  
Alexis also had this comment to add. "I love working on different types of hair, trying new styles, and having new ideas. If you would like to book with me you can get in touch with me by my Instagram @d.eeesireee, every new client gets $15 off their first style!"
   Seeing just how these inspiring students at such a young age, and on top of that still in high school, truly shows the will of a motivated young adult. It's crazy to see our fellow classmates paving their way into the business world and can inspire us all to start our own paths in life and follow our passions, no matter what age!