Celebrando la Cultura Hispana
Celebrating Hispanic Culture
   Seniors Carmen Rivera and Isabella Dias are this year's President and Vice President of Paschal's Hispanic Society and this year the club is taking Paschal by storm working to bring light to the beloved traditions and share the beauties of the Hispanic culture with Paschal's student body.
   Isabella explains in joining the club that " we just wanted to share our traditions and our customs with the school, so that they don't just see all these stereotypes and what we're just labeled as, we wanted to break away from that and show how rich and beautiful our culture is " cause " it's just disappointing that in a majority Hispanic school, [and as] the largest community at Paschal [we're]  just not being represented the way [we] should be."
   Like many of Paschal's clubs Hispanic Society disappeared  with the pandemic but after hearing about the possibility of the club starting back up this school year from advisor, Sandra Pedroza, many students became interested in joining. When asked about the clubs amount of active members Carmen responded with " I'm honestly surprised how many freshmen we have in [Hispanic Society]… and they keep coming and they keep showing up and volunteering and I think it's because they also feel comfortable with us, because they also feel like it's their home" Both Carmen and Isabella are proud to see how many young Hispanics have become excited about participating in the club and giving back to the community so far.
   Having worked hard to organize many school wide events from an on campus movie night to a student organized Dia De Los Muertos ceremony in the front foyer, Carmen and Isabella smile talking about how many of the clubs members look forward to participating in sharing their culture and traditions not only with Paschal's student body but with the surrounding community, having gone out of their way to reach out and begin volunteering with events held at Paschal's younger pyramid school Westcliff Elementary.
   Just recently the club volunteered their time after school to work the Westcliff Elementary fall festival, where they were able to host arts and crafts projects along with other various games and activities for the schools younger students, not once complaining about being outside in the cold or about having just volunteered at the elementary school a month prior working Westcliffs Fiesta event as part of their first Hispanic Heritage month celebration, where the clubs members  were also handing out food and hosting fun activities with a special performance by Paschal's very own Mariachi Panteras.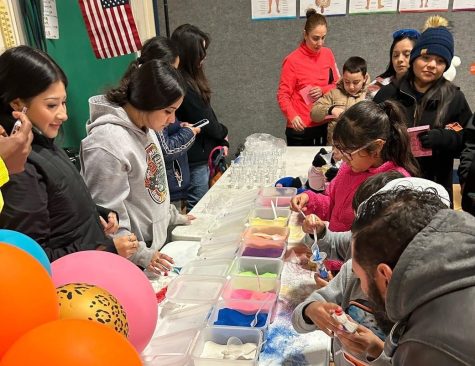 When asked about the clubs volunteering efforts Carmen responded that she feels "it's important for [others] to see we are always willing to help, we're always willing to step up and be there for other people especially [ the Westcliff students] because they're kids" Isabella further explains the sentiment expressing how important it is for younger students to see that "they don't have to conform with the majority white standards that are unfortunately at our schools."
   This is personal to both Isabella and Carmen because of the unspoken understanding that is shared by many minority students at Paschal who have ever either felt unseen or unimportant within their classes and on the overall campus because of the lack of regard and in some instances the lack of respect for their personal experience in relation to the culture and traditions connected with their race.
   It is well known that Paschal tends to be perceived as the more commonly "rich" and "primarily white school" within FWISD and while over 50% of Paschal's student body identifies as being Hispanic or Latino this group is often marginalized. Many students have never experienced any form of acknowledgement let alone celebration of Hispanic Heritage month or of traditional Hispanic festivities such as Día de los Muertos (a traditional Mexican celebration meant to honor and remember loved ones who are no longer with us and to celebrate their lives) over any period of the time they've spent at Paschal outside of a Spanish one classroom or textbook. 
   Hispanic Societies goals are to "make every Hispanic at Paschal feel that their background and their culture is being appreciated and celebrated" Carmen explains with great sincerity that one of her main goals as club president is "for [Hispanic students] to feel included and not feel judged by people"  and with this idea in mind both Carmen and Isabella aim to help progress the society in any way they can with the help of not just Ms. Pedroza and their fellow officers but with the support of their fellow club members.
   When asked about her experience so far as Hispanic society President, Carmen lights up saying " I love it!… I tell them all the time that it's like a safe space for me… it just feels like home"  and while she and Isabella are both extremely proud of how much they have accomplished they are also eager to see what else is in store for the Hispanic Society this school year.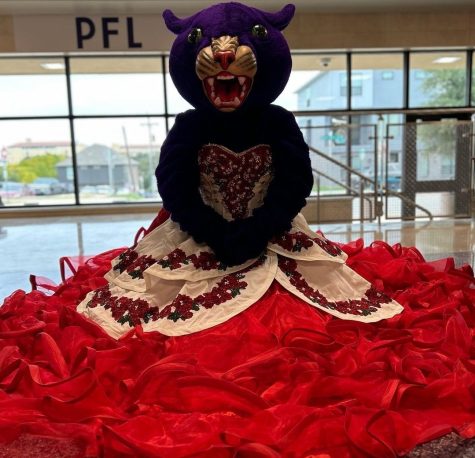 Already having organized a trash bash, hosting a movie night in the school cafeteria, participating in the schools trunk or treat for the community, and the various volunteering events at Westcliff Elementary,  Hispanic Societies next event is set to take place this Saturday December 3rd 7-10pm in the cafeteria  where they will gather to celebrate La Quniceñera de la Pantera.
   This event is just for Paschal students and set to be Paschal's first all Spanish music dance, ID's will be required along with a $10 entry fee at the door. There will also be a chance for students to dress up in their best Quince fits with a $2 best dressed competition entry fee.
   Paschal's dances aren't typically known for their diversity in music taste so this dance is expected to be a treat for all students in attendance. Everyone is welcome and they are hopeful this might just begin a new tradition for Paschal's student body
    For more information on La Quniceñera de la Pantera and the Hispanic Societies future events follow them of instagram @phshispanicsociety and, while they aren't actively accepting new members at this point in time they are always appreciative of any support in their project to promote the appreciation of the Hispanic Culture.