Winterfest is Coming to Paschal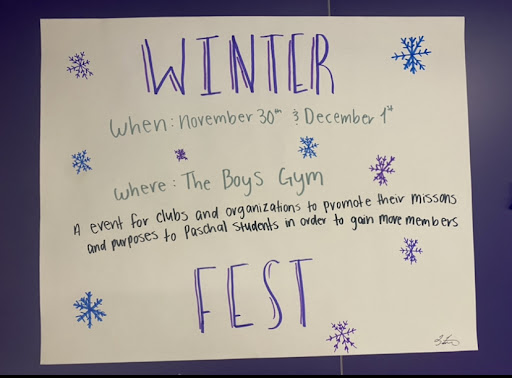 For the first time in 3 years, Winterfest is coming back to Paschal. This event will be hosted November 30th through December 1st and will most likely be held in the Boy's Gym. Winterfest will be an event where all of Paschal's clubs will be able to promote themselves and showcase their successes. 
The Leadership class explains that people will "showcase clubs on campus and get people interested in their club or class by giving descriptions on activities they do throughout the year." There will also be many different activities presented by the clubs including games, raffles, and treats.
 Winterfest will have a reward system for those who show interest in multiple clubs that will lead to a giveaway. Leadership is actively working to present a well rounded event that wil allow for more students to get involved in outside activities. Get interested in Paschal's many opportunities by participating in and visiting Winterfest this November and December.