Spring Sports Suffer
Spring sports have faced season cancellations due to the coronavirus.
On March 14, school was canceled for two weeks because of coronavirus. Then about a week later, it was canceled for another week. And a little later, it was canceled until May 4. Now, schools are closed for the rest of the school year. But when school ended, so did all spring sports–including soccer, baseball, softball, track, and water polo.
The girls soccer team only had two games left to play against Arlington Lamar and North Crowley. These were games that would affect how the varsity team would be seeded going into the playoffs.
Last year, the 2019 season, was the first time since 2015 that the Lady Panthers made it to the playoffs, but they were eliminated in the first round with a loss against San Angelo Central. This year, the girls soccer program welcomed a new coaching staff who were optimistic for the season to come.
The Lady Panthers proved themselves early on by placing first in their bracket at the Richardson Ice Bowl in January, giving the team high hopes for the outcome of the season to come. This year, the varsity team consisted of 6 sophomores, 6 juniors, and 12 seniors and no one is feeling the hurt of the year ending early more than the seniors.
"I'm very upset that the season was cut short. The team has worked so hard since August to be where we are today and it is unfair we won't have the opportunity to finish what we started," says Emory Watts, senior and captain of the soccer team.
Coach Philip Gomez is the head coach of the varsity girls soccer team. He, along with the assistant coaches Brittany Rose and Sarah Goodman, was new this year and had big plans for the season. "I think everyone is pretty upset that we won't get to finish out our season and see how far we could have progressed through the playoff bracket. I also know that we all understand that there is much more at stake than us finishing our season, so I am very happy to see everyone having their health when we video chat," says Gomez.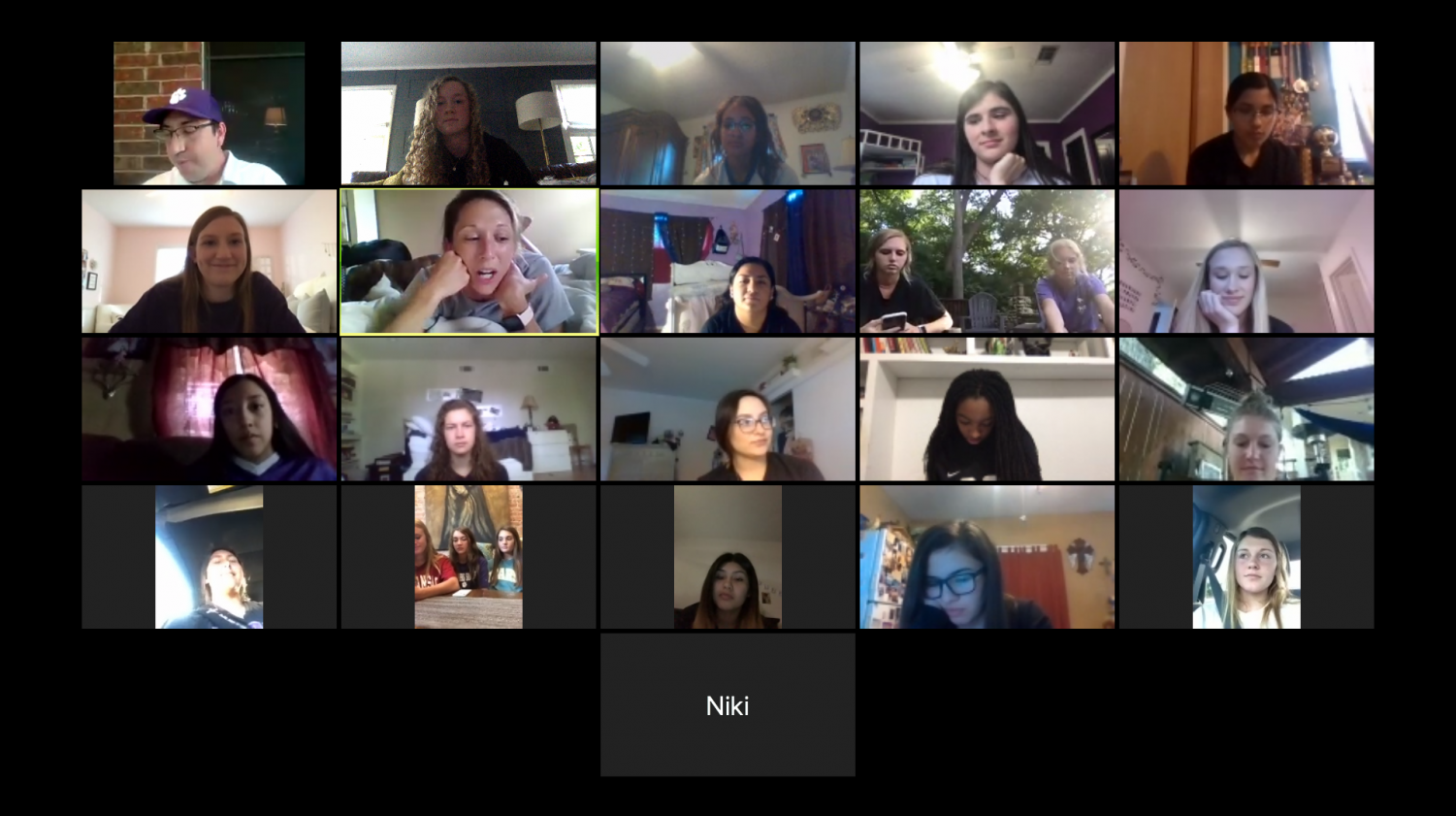 Gomez continues, "I do not believe that this will have any seriously negative effects on our next season going forward. We as a team will have enough time together in the fall to regroup and get back on track. The biggest loss will be the playoff experience that the team missed out on in 2020." 
"This is a tough season for us because of the timing. The boys had just secured a playoff spot and had the best chances of finishing 2nd place with 2 games to go. I believe this team would have done well in the playoffs," says Coach Mark Townsend, the head boys soccer coach at Paschal. "The last time we went to the playoffs was 3 years ago. That team had 5 freshmen on the field in the 2nd playoff game. So these guys that were on that team were very excited to make it back."
This season the boys soccer team competed against two state ranked teams. Sam Houston High School was ranked number one in the state for boys soccer at the beginning of the season and Bowie High School was ranked number eight in the state. 
"This is a resilient group that we have. They will be fine. They did compete well in a very tough soccer district. I think that they will leave a legacy for the younger guys that take their place next year," says Townsend. "As for me, I was very excited about this year. I have been saying that we were building this team for 2 years. I will be back next year. The seniors of 2020 will not, and for that I am sad. They created some great memories though and I will never forget them."
High school sports weren't the only sports affected by school cancellation, though. Colleges are having to work around the complications created by COVID-19 in order to prepare for the coming season. Michelle Housden, the head coach of the women's soccer program at Austin College and former Paschal varsity girls soccer coach, described her predicament. 
"As a college coach and recruiter, the greatest impact that COVID-19 has is crippling the opportunity to meet a potential student athlete in person. I rely on the in-person meetings to really get a feeling of the student athletes' personality, character, and gauge their interest in my college. It has also impacted a potential student athlete's opportunity to visit a campus, meet prospective teammates, and gain perspective on what is unique about the college."
However, while recruiting coming to a pause is a problem, there's no use in recruiting if there isn't a 2020-2021 season. According to Housden, schools like the University of Cincinnati and St. Edwards have already cut some programs, including men's soccer. 
"Without a vaccine, I believe we run into an ethical issue of placing athletes in close and prolonged contact with each other, and risk infection," says Housden. And she's not the only one. Coach Gomez has said, "I definitely feel that coaches will need to be more cognizant of locker room cleanliness, athlete hand washing routines, and athlete proximity during practice and travel due to the increased importance of minimizing unnecessary contact."
Soccer isn't the only sport affected by this pandemic and the resulting school cancellations. Spring sports like baseball, softball, waterpolo, lacrosse, and track have also been canceled for the rest of the season.
"Although we totally understand the measures taken to provide safety, the team and coaches are pretty upset that the season is over. The players had worked so hard for 9 months in preparation for a season that never really took off! I hurt most for our 11 seniors who aren't going to play another game in a Paschal jersey," says Coach Clint Dunham, the head baseball coach at Paschal.
Dunham goes on to say, "I'm hopeful that 2021 will not be altered but understand that it's about safety first. Thankfully we are in the spring of 2021 so we have a year to worry about that. Football and volleyball I hope can continue in the fall as it's a great time of year when students are returning from summer!"
"I am very worried that we will not have sports next year or at least until the spring," says Coach Jason Lovell, the water polo and swim team coach at Paschal. The water polo season had barely begun, with only a few practices under their belt. School was canceled before any games or tournaments could take place.
So while this season and school year has prematurely ended, hope can be turned to next season and to the future. When asked if she had any words of encouragement, Emory Watts said: 
"To the seniors: I want to say that I know this is so hard and this is not how we expected our soccer season to end, but we should be proud of ourselves for sticking with and changing the soccer program. The class of 2020 has gone through three different coaching staffs in our 4 years and has gone from losing to Lamar 8-0 freshman year to beating them, we have made an expectation of winning at Paschal. To the others: Play every game with the intensity that it is your last because you never know. Keep your head up and continue to work hard for yourself and your teammates."
The UIL has made an official statement regarding the spring sports' seasons. "WITH THE ANNOUNCEMENT THAT ALL TEXAS SCHOOLS ARE TO REMAIN CLOSED TO IN-PERSON LEARNING FOR THE REMAINDER OF THIS SCHOOL YEAR, AND IN AN EFFORT TO HELP PROTECT THE HEALTH AND SAFETY OF TEXANS, THE UNIVERSITY INTERSCHOLASTIC LEAGUE IS CANCELING ALL REMAINING 2019-2020 SPRING ACTIVITIES AND STATE CHAMPIONSHIPS." Their website is https://www.uiltexas.org where you can check for updates.
buy over the counter medicines займ на карту срочно без проверокмобильный займмой займ личный кабинет займ под расписку в москвезайм моментальныйзайм оформить