The Prom Price Tag
Hang on for a minute...we're trying to find some more stories you might like.
---

Sparkles. Suits. Dancing. Pigs Blood?* Prom has been characterized across American media in many films, from Footloose to Carrie. While Paschal's Prom 2020 likely won't join the latter in the "Horror" film genre, you may be astonished by the dollar by dollar break down of major prom expenses.

The price of prom breaks down into nine main categories: dress, tux, transportation, hair, makeup, tan, flowers, nails, and tickets. 

First: dresses. Dresses can be found in stores and online for a range of prices. Fort Worth features a store specializing in prom and event dresses called Whatchamacallit. After a phone interview with store employees, here are a few pointers to shopping for your dream dress at Whatchamacallit. 

The store features in-season dresses that have been hand selected at "market," a source for retailers to acquire trendy product, and are available in-store. Expect to pay between $299 to $799 for these dresses, averaging about $495. Whatchamacallit also offers a sale rack of design below that range and a "vault" of dresses over $1000 each for customers with a certain vision. 

Second: the tuxedo. Tuxedos differ from dresses on one major point of apparel: they can be rented. Men's Wearhouse offers many different tux styles, including colorful accessories for an individual twist. Renting a tux here will cost between $99.99 and $220, according to a store associate, however the average student pays about $179 to $199 for his prom-night look. 

Tuxedos rented from Men's Wearhouse include a "full package," including everything the look selected requires, such as coat, pants, vest, shirt, neckwear, shoes, a pocket square, cufflinks, and even socks. 

Third: transportation. Students use a variety of methods to get to and from prom and parties including personal vehicles, Uber/ Lyft/ other rideshare, party buses, or limos. Limo Service Fort Worth claims to be the city's premiere limo service, servicing the city for all occasions for "years."

 A phone call to the service revealed that the average group of students includes about ten students and the average rental time is about six hours for the evening. Six hours of rental for ten people costs $1000 total, which can be split among students. 

Fourth: hair. The Dry Bar in Fort Worth offers a range of services, most relevant to prom being their blowout and updo styling services. The salon does not cut or color hair, instead they specialize in heat-styling techniques. A blowout includes a hair wash, costs $45, and can take forty-five to sixty minutes to complete. Dry Bar offers two updo services: the Uptini and Dry Styling. The Uptini is simply an updo with a wash, costing $90 and taking time in accordance with the complexity of the style. Dry Styling is similar without the wash: you bring your hair as clean as you desire and they arrange it, setting you back $25 and taking twenty minutes. Any braiding costs $10 a braid and can be worked into your style. The Dry Bar website features a short "lookbook" of potential styles to choose from and Senior Lily Fields recommends identifying your favorite or bringing a picture of your hairstyle vision into the salon to help your stylist make your prom dream hair come true. 

Fifth: makeup. Sephora and Neiman Marcus, both centrally located to the Paschal district, are chain stores offering in-house makeup services. Sephora, which previously offered free makeover services, no longer offers these services, instead opting for a 30-60-90 pricing guide to your next prom look. Eye makeup alone costs $30 and requires the customer to complete their own base, lips, etc. A full face costs $60. $90 will get a full face, plus any "deluxe" items, such as glitter or a cut crease. 

False eyelashes are charged separately, ranging anywhere from $8 to $30 a set, according to a store associate.

Neiman Marcus offers free makeover services for the whole face, however a product purchase is highly expected. In other words, a trained associate from a product line, such as Bobbi Brown, Chanel, Tom Ford, or Marc Jacobs, will create your look from products exclusively from that line. In exchange for the service, a purchase of one of the products used is very expected. 

An employee at the Chanel counter shared that it is critical to book your appointment far in advance of prom week and that booking the week of prom will be next to impossible. It may also be helpful to bring a picture or other source of inspiration for your look to guide your makeup artist's application. 

Sixth: tan. Spray tanning may be a controversial subject in the beauty world, but the truth remains that plenty of pairs of spray-tanned legs will pass the doors of prom. Fort Worth boasts several tanning salons among which are Tan 2 Glow and Palm Beach Tan. Tan 2 Glow offers tans starting at $35 up to $50 and a Rapid Tan for $42, which has a faster drying time. Palm Beach Tan's tans range $35-$40. 

Seventh: flowers. Flowers are an expense for guys and girls, guys are responsible for the bouquet, also known as a nosegay, while girls are responsible for the boutonniere, the cluster of flowers attached to the tux lapel. Among the florists across Fort Worth, most central to Paschal are the TCU Florist and Tom Thumb on Hulen Street. 

TCU Florist offers a more customizable bouquet experience, ranging from $50 for a "basic" bouquet up to $100 for more extravagant arrangements. TCU Florist has a flat fee for boutonnieres: $15. For both arrangements, an in-store florist recommends bringing a picture and/or having a clear idea of what you want so your flowers coordinate well with your prom look. Tom Thumb offers more limited, lower-price options.

 The nosegay, which contains six roses,one hydrangea, and some filler flower (such as baby's breath), costs $35.99. The boutonniere costs $12.99. Pantherette staff recommend carrying a picture of your dress or tux with you to ensure the best color coordination. 

Eighth: nails. Nails are a must have for some and a pain for others. Like flowers, dresses, and transport, Fort Worth boasts many nail salons offering a wide range of services at several price points. Two differing salons in the PHS area are Professionails and GEM Nail Spa. Professionails offers acrylic nails for a $25 base cost. 

They charge $5 for two nails to add a design and charge up to $10 extra per nail for designs based on nail length and design complexity. Professionails charges $35 for powder dip, an additional $5 to add tips beneath the dip, and another $5 for long, shaped tips, for a range of $35-$45. Lastly, a regular polish coat with manicure costs $15. GEM Nails offers the same services on a slightly different price scale.

 Acrylics cost $35 and additional designs run $5 to $10 extra as a flat fee, not per finger. Powder dip is $40 even, whether or not artificial tips are added beneath. A regular polish costs $17.

Ninth: tickets. Prom tickets are available from the PHS Student Council and Leadership class. While the exact price has yet to be announced, Senior Class President Lily Fields predicts the tickets to cost a minimum of $60 apiece. The tickets will become available around the week leading up to prom on May 23rd and pricing will be announced in the meantime.

*Carrie 1976 Horror Film  remake: 2013
About the Writer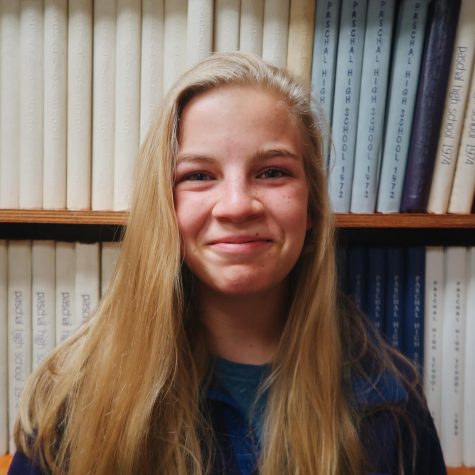 Collette Steed, Editor in Chief
Collette Steed is a Senior at PHS. Outside of the Pantherette, Collette volunteers at Agape Meal, leads in her youth group, and tries to keep up with the...