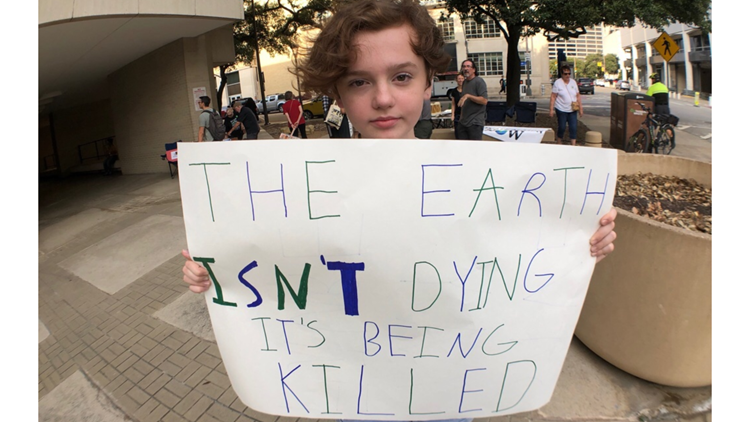 On the morning of September 20th, most Paschal students were either in class or raiding area 51.  However, some students, like sophomore Libby Connolly, were downtown protesting the lack of action surrounding climate change and urging the government to take note of what is happening.  This "climate strike" was a nationwide protest started by Greta Thurnberg, a teenager from Sweden.  
"I am participating in this strike because I believe this is truly a world wide crisis and everyone should be doing their part, including me," Connolly said.
Connolly's actions caught the attention of the local WFAA news team.  They interviewed her for a story about the climate strike and why she participated.  The story was uploaded to the WFAA news facebook page, and the comments were shocking.  Comments such as "morons", "GO TO SCHOOL", and "Child abuse by those feeding this nonsense to these children" can be found underneath the video.  One person points out that "Hitler loved to use children also to push his adgenda (sic),".  
"They called me a hypocrite, said I was brainwashed and idiotic, said my parents were on drugs for letting me go to the protest,"  Connelly said. "The reason I went on Facebook was to see if anyone was being positive about the story but was faced with adults belittling me," 
The response to this protest, albeit strong, is not uncommon.  People have become extremely divided in recent years. "This division heightened during former President Barack Obama's tenure and has widened since President Donald Trump assumed office," TCU Strategic Communications Professor Amiso George says.  While one of the issues people are the most divided about is climate change, there are ways to mend the divide.  
"We can start by finding ways to learn about the "other." Dr. George said.  "Even if you don't agree, you may learn something new and perhaps, refreshing. Right here, right now, we can engage in certain activities and rituals that make us all Americans: the pledge of allegiance, studying civics to truly understand how our government works, and engaging in community activities that benefit all. It's not that difficult; but we must be intentional about this. We are, after all, the United States of America."
Despite the comments being cruel, Connolly realized that they didn't really mean anything, "I shouldn't let the comments bother me because that's exactly what they want."