Suicide Prevention Week
This week at Paschal High School, students and staff have been given the opportunity to shine light on a very important topic. That's right! Students were able to show their support in spreading awareness for suicide and mental illness by participating in Suicide Prevention Week. One of the many purposes of Suicide Prevention Week is to start conversations on a topic that is crucial to have knowledge on, as well as offer advice and help for mental illnesses. 
What exactly have Paschal students done this week to raise awareness on the subject? Well, this week students were able to become participants in United Voices for Change, which is an organization that is open to students who wish to work together for a positive change. Together, they graciously handed out items to help students remember to spread awareness for mental illness and suicidal behavior. 
Students and staff were also able to show their support by wearing different colors throughout the week. On Monday, it was green to promote mental health, red on Tuesday to signify the importance of knowing the warning signs of suicide, pink on Wednesday to show love and kindness, team apparel on Thursday to show unity and togetherness, and finally neon or college shirts on Friday to represent "The Future is Bright," a motto which students are encouraged to spread. 
We had the privilege to have Ms. Bruns, a history teacher here at Paschal, working and taking charge of UV4C on campus, as well as acting as one of the sponsors for the group. Paschal students who participated this week to raise awareness were described to have been doing a great job. Mr. Wright, Latin teacher and NHS co-chapter advisor, described the participants as "very energetic and enthusiastic" to have had the opportunity to participate. As seen throughout the week, students were able to make even the smallest of changes right here in Paschal, with the help of UV4C.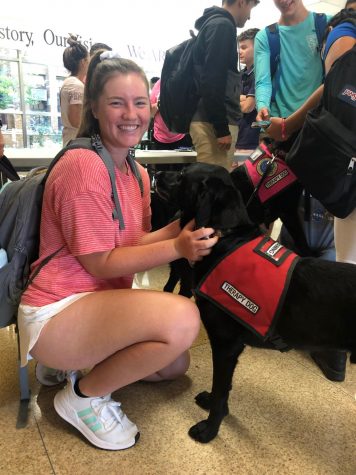 The American Foundation for Suicide Prevention reported that suicide is the 10th leading cause for death in the United States, and the 2nd leading cause of death for people 15 to 34 years old in the state of Texas. Unfortunately, one person takes their own life every two hours within the state. The numbers are predicted to be higher, however the stigma revolved around the subject causes unreported accidents or attempts. 
Yet suicide prevention isn't just statistics, it is something that everyone needs to be more open about, so that those who need it can receive the help that they need. This is why it is crucial to stress the importance of knowing and recognizing the signs and behaviors of suicide or mental illness. 
This week's mission, however, was not solely centered around raising awareness over the warning signs and the prevention of suicide. Many have taken this opportunity to highlight and talk about the importance of overall mental health as well. Andy Johnson, a junior at Paschal and UV4C participant, believes conversations of this nature are "very important because we need to raise awareness about mental illness and remove that stigma behind it as well, and in doing so, we raise awareness for the [mental] illnesses and are able to make even the smallest of change." 
On Saturday, September the 14th, there will also be the "Out of Darkness Walk" at Clearfork to celebrate suicide prevention and awareness. Paschal students and staff are proud to have participated in suicide prevention week and will continue doing so throughout the year. 
If you or someone you know needs help, call the National Suicide Prevention Lifeline at 1-800-273-8255 which is available 24 hours. быстрые займы на карту займ уфа срочнопервый займ под 0%быстро займ без отказа займ под залог доли в квартиреденьги будут займзайм мтс