Couples Competition Explanation and Apology
Hang on for a minute...we're trying to find some more stories you might like.
As everyone knows, the Pantherette announced a Cutest Couples Competition over
the past week. The rules of the contest were to post a picture of you and anyone you
care about on your instagram story, and tag @phspantherette to be posted on the
newspaper Instagram account. The couple with the most likes would be identified
on Valentine's Day at 12:30 pm, and the winning "couple" would be awarded a $40
gift card to Cheesecake Factory.
The contest was started as a way to get students involved with newspaper,
and give a fun, light-hearted platform to students that may not otherwise get
involved. We hoped the contest would take on a funny mood, and that everyone
would embrace the cheesiness. While this did happen, there were also a lot of
complications that caused conflict and anger directed at the Pantherette staff, as
well as at some of the couples that entered the contest.
On Wednesday morning, several staff members noticed that most posts had
around 50 likes, while one post had around 800 likes. When scrolling through, many
people noticed that a lot of these likes were from computer generated accounts
(accounts with usernames like @ashaiflguha with zero followers). Without wanting
to point any fingers or disqualify anyone, a staff member contacted the student that
sent in the post and notified them that we would post the picture again without
counting any bot likes. After a discussion about the specifics of the situation, we
decided to not disqualify the post, but that we would also award a second place gift
card to the post with the second most likes, in an effort to make the contest more
fun for couples that didn't have quite as many likes.
However, after continuing the contest and actively posting pictures that were
entered, this problem escalated. We noticed that several posts were getting over
1,000 likes at the same time, and that most of these likes were computer generated.
After an issue with another post that was sent in by a third-party, we took down one
of the posts in question in response to a discussion with our advisor. From this point
on, the contest escalated into a huge conflict.
It is important to note that the posts that we originally identified as
problematic were only in question due to an excessive amount of computer
generated likes or issues with guidelines, and that is the one and only reason we
identified them as problematic. The Pantherette values diversity in our school, and
we strive to represent everyone we see in the halls. The intent behind this contest
was to give everyone a platform to get involved in a fun and casual way.
As of today, the last day of the contest, it is clear that almost every post has
now gotten several random likes, and the issue has now escalated out of our control.
If we could go back and change the way we decided to choose the winner, we would
choose a more secure and fair guideline than Instagram likes. We just wanted the
competition to feel casual and more personal for the people that participated.
Because of the lack of any way to judge every post fairly, we have decided as a staff
to adjust the method in which the winner will be chosen.
We will enter each person that entered the contest into a random generator,
and give the gift card to the couple that the generator picks. Every couple that
entered the contest will be awarded a candy bar, and can stop by room 229 to claim
your prize tomorrow.
We understand that these are not the conditions that everyone entered the
contest under, but we want each couple that entered to have an equal chance to win,
seeing as the like-based scale is no longer viable. We understand that not everyone
involved purchased likes, and we see that several posts have been the target of
criticism and harassment as a result of this contest. We also know that we don't know who did or didn't buy likes, and we are not accusing anyone or any individual of doing so.
On behalf of the newspaper staff,
I apologize.
Again, this competition was started to be funny and entertaining, and to get
people involved. We want everyone to have a great Valentine's Day, and thank you
for participating!
About the Writer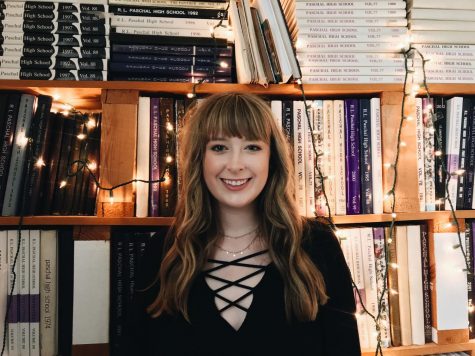 Hannah Harvey, Editor-In-Chief
Hannah Harvey is the editor-in-chief of the Pantherette. She has been on the staff for three years. Hannah is apart of the leadership team for Fellowship,...