Ladies, it's 2019! Spoil your man for Valentine's Day!
A Valentine's day gift guide for guys
Hang on for a minute...we're trying to find some more stories you might like.
Everybody knows the classic Valentine's day gifts that every girl will love- flowers, chocolate, teddy bear, jewelry, the list goes on and on. What can be tricky is finding gift ideas of the masculine variety. The tradition of guys buying gifts for their girl is great, but why can't girls buying guys gifts be just as common? Ladies, it is 2019, spoil your man!
A funny twist on the ever so popular bouquet of roses has come out this year, the bouquet of beef jerky roses! If you are shopping for a man with an appetite, this is the way to go. Below are some of the places you can buy this hilarious gift.
For those that are ballin' on a budget, Target has a great selection of Valentine's themed gifts that are targeted (no pun intended) towards males. Some examples of these include sports themed candy, cologne kits, men's jewelry, etc. Just head to the holiday section in the back of the store, and you are sure to find something the man in your life will love.
Some other options that won't break the bank include simple things like a deck of cards, candy, or food. These things may not qualify as a grand gesture, but they will let him know you are thinking of him.
Places like TJ Maxx and Marshalls have lots of discounted goods, such as ties, cologne, clothing, hats, and more. If you are looking for a more traditional gift, these stores offer lots of options for way less money than department stores.
For those that are down to spend a little more to spoil their guy this Valentines day, a watch is a great idea. There are plenty of options to choose from based on price range and personal style, and anytime he looks down at his wrist he will think of you!
Another great option that leans towards a more expensive price range is tickets to a sports game or concert. This can be a gift to yourself also, because you can go with him and have a great time together! Check our entertainment section for updates on concerts and events coming to the DFW area.
A gift that any boy will love is a new pair of shoes. Check out Nike, Adidas, Vans, etc. for the latest styles that will put a smile on his face.
About the Contributor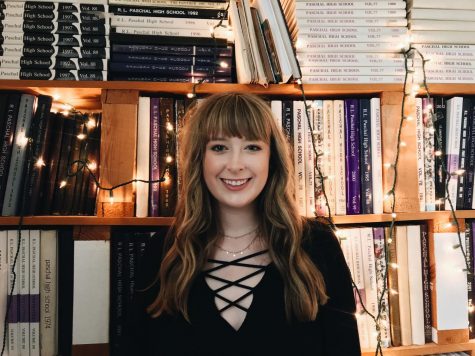 Hannah Harvey, Editor-In-Chief
Hannah Harvey is the editor-in-chief of the Pantherette. She has been on the staff for three years. Hannah is apart of the leadership team for Fellowship,...