Conference Championship Week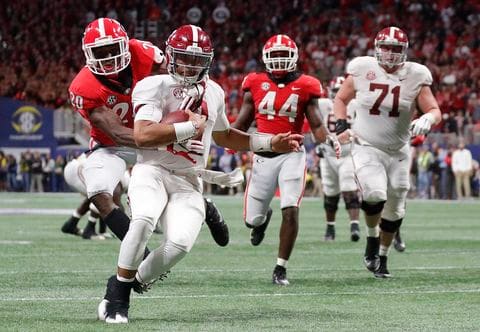 Hang on for a minute...we're trying to find some more stories you might like.
     The Committee is a couple days away from making their final decision on who is in and who is out. As of now, the talk is between #5 Oklahoma and #6 Ohio State. Conference championship week will have a great influence on this decision. After a dominating win over #4 Michigan, Ohio State is looking to boost their playoff resume with a conference title and win over #21 Northwestern. Oklahoma looks to avenge their only loss of the season against #14 Texas, which would boost their resume as well. However, there is a way neither of these teams make the playoff. If Georgia finds a way to upset #1 Alabama, they will move up from the 4 spot and Alabama is predicted to fill their place if this were to happen. It looks as though Notre Dame, Clemson, and Alabama are locks, and that fourth spot will be determined after this weekend.
Conference Championship Week
There are 10 FBS Conferences. There are 5 power five conferences, those being the Southeastern Conference (SEC), the Atlantic Coast Conference (ACC), the Pac 12, the Big 10, and the Big 12. The other five are known as the group of five with those being Conference USA, the Mid-American Conference (MAC), the American Athletic Conference (AAC), the Mountain West, and the Sun Belt.   
SEC Championship
#1 Alabama vs. #4 Georgia
Thirteen weeks of college football have passed and we are moving on to conference championship week. College Gameday is setting up in Atlanta, Georgia this week for the 2017 National Championship rematch between Alabama and Georgia. Last year, Alabama beat the Bulldogs 26-23 due to a last second touchdown pass thrown by Tua Tagovailoa. Jalen Hurts was the quarterback that started the game for the Tide, but was benched in the second half. The rematch is looking to be a further stretch for Georgia however, with Alabama being favored by 13 points and with a developed Heisman contender Tua Tagovailoa.
MAC Championship
Northern Illinois vs. Buffalo
We should see a little bit of MACtion on November 30th at Ford Field in Detroit, Michigan between the NIU Huskies and Buffalo Bulls. NIU had one of the most difficult non conference schedules in the group of five with Iowa, Utah, Florida State, and BYU. The Huskies would lose three of those games and picking up the one win against BYU but wouldn't lose in conference play until the last two games of the season. Buffalo is led by their offense and it starts with their receiving corps led by Anthony Johnson who could be a first round pick in the upcoming NFL draft.   
Pac 12 Championship
#17 Utah vs. #11 Washington
The pac 12 championship will be pretty much what we expected except for maybe USC instead of Utah. Washington had one of the more anticipated games of the season with their opener against Auburn which was considered a game that had huge playoff implications. Washington would lose that game and would later be upset by Oregon and Cal, dropping them out of playoff conversation. But what a lot of people forgot was Washington still had a shot of winning the pac 12 north division. The Washington Huskies win over their rival Washington State in the Apple Cup not only trimmed the Cougars playoff hopes but also reminded us that Washington still has a lot to play for. When you looked on the other side of the pac 12 you had the most wide open division in college football in the south division. Obviously USC was a favorite and so was Arizona with one of the more explosive quarterbacks in the country in Khalil Tate. But no one thought of the Utah Utes. Utah head coach Kyle Whittingham is one of the better coaches in the country and had a lot of returning starters. Everybody else in the south division had either a lot of rebuilding or a lot of inexperienced players. Oh, and by the way, Utah won their last three games of the season with a backup quarterback and backup running back. This will be the second time these two have faced each other this season with Washington winning the first matchup on september 15th 21-7.
Big 12
#14 Texas vs. #5 Oklahoma
Here's another game that has two teams that have played each other already this season. Why not make it one of the better rivalries in all of sports for a second time in the same season? Texas head coach, Tom Herman, has done an incredible job in his second year in Austin, turning the close losses from last year into close wins this season. Just about every one of the Longhorns' games have been close. Except for USC, TCU, and Iowa State, the games have been decided by one possession whether a loss or a win. It's been since 1903 that the Sooners and Longhorns have met twice in the same season and only one time previous in 1901 – making this the third time in history that the Longhorns and Sooners will play twice in the same season. Oklahoma hasn't had their sooner magic in the past resulting in a 0-2 record in the rematch games but this season provides a different kind of gift. A possible playoff berth on the line.
Sun Belt
Louisiana @ Appalachian State
Billy Napier has done a terrific job in his first year in Lafayette. This was supposed to be a rebuilding year for the Ragin' Cajuns. The Cajuns secured the Sun Belt west after beating UL Monroe this past weekend. Appalachian State will be playing at home against ULL for the second time this season but this time for the conference championship. Appalachian state will be playing for a big bowl game bid. The mountaineers only have two losses on the season and one was at Penn State the first game of the season in overtime.
C-USA
UAB @ Middle Tennessee State     
   UAB has the second most seniors on a roster in the country. This is a school that didn't even have a football team two years ago. Last year UAB got to a bowl game and this year was the clear winner of the Conference USA west division. The UAB Blazers have a chance to get 10 wins this season with a win at Middle Tennessee for the conference championship. Middle Tennessee is led by their senior quarterback Brent Stockstill. Also the head coaches son (Rick Stockstill), he has led Middle Tennessee to a 7-1 record in conference play and an 8-4 overall record including a perfect 5-0 record at home. Three of their four losses were against SEC schools. Vanderbilt, Georgia, and Kentucky. The Blue Raiders will look to try to stay undefeated at home and finish the season with a Conference USA championship.
AAC
Memphis @ #8 UCF
This will be the fourth time these teams have met in the last two years. The first game resulted in a 40-13 win for UCF on September 30th of last year. Since then 21 straight wins for the knights. Arguably their closest wins have come against Memphis. The last two wins have come by a combined 8 points. UCF won last years conference championship 62-55 in three overtimes against Memphis. UCF star quarterback, and unquestioned team leader, McKenzie Milton, went down for the season last Friday against South Florida with a gruesome knee injury. Darriel Mack Jr. will start in place of Milton. They'll be facing a Memphis Tiger football team that have won four in a row including a three touchdown win over Houston.
ACC
#2 Clemson vs Pittsburgh
         Clemson And Pittsburgh. One team from the Atlantic division and the other the Coastal division. The team representing the Atlantic has been dominant the last several times as the ACC conference champion has come from the Atlantic division the last seven seasons with four of those being Clemson. Last time Pittsburgh played Clemson, they beat the Tigers in death valley 43-42 with a field goal in the closing seconds. For most of the seniors for Clemson, that is their only loss at home. Pittsburgh is representing the Coastal division for the first time since the ACC came out with divisional play in 2005. Pittsburgh is well aware of the underdog role. Each of the last three seasons the Panthers have been able to pull an upset. What will Pat Narduzzi have in store for us this time?
Big 10 Championship
#21 Northwestern vs. #6 Ohio State
    After a dominant win over the then #4 Michigan Wolverines, Dwayne Haskins and the Buckeyes find themselves in the Big 10 Championship game, versus the Northwestern wildcats. As inconsistent as Ohio State has been this year Northwestern has been arguably more inconsistent and truly living up to the "Wild" part of their name (the Wildcats). Northwestern began the season with a 31-27 win over Purdue who beat Ohio State by 29. In that win they scored 31 points in the first half and none in the second half. After that opening season win, they would lose three straight including a loss to Akron. Pat Fitzgerald usually gets his Wildcats ready to play around this time of year. Before we even talk about the job Fitzgerald has done with Northwestern and the amount of injuries they've sustained this year, how about the Buckeyes? With all the things surrounding Urban Meyer preseason and the talk of him being fired as well as Ryan Day stepping in as interim coach for Urban during the first three games this season? Both of teams deserve a lot of praise for getting this far and the road doesn't end here for either team.
#25 Fresno State @ #22 Boise State
A battle between some of the best quarterbacks in the mountain west with Fresno's Marcus Mcmaryion and Boise's Brett Rypien. Both of these guys rank in the top 15 in the country in passing efficiency. Mcmaryion is 7th and Rypien is 11th. This will be the second time these teams have faced each other this season with Boise State winning the regular season matchup 24-17 and scoring three unanswered touchdowns. Brett Rypien set records with passing yards completions the last time they faced Fresno State, as well as setting a league-record 21st 300-yard passing game with 310 against last week against Utah State. Both of these teams have faced each other the last two years in the Mountain West championship game with Boise State winning last year at home on the blue turf and will have a chance to do it again. With a UCF loss, the winner of this game could have a possible birth to a new year's six bowl game.   
Connor's Playoff Prediction (By the way how about my playoff prediction from week 1)